THE COVID-19 pandemic has put a stop to the exciting and fast-paced world of athletes as professional sports organizations had to cancel numerous events. 
The National Basketball Association, considered the premier global league in all of sports, as well as the country's own Philippine Basketball Association, had to create a bubble to continue their games, for obviously, basketball games, unless electronic virtual matches, cannot be had online.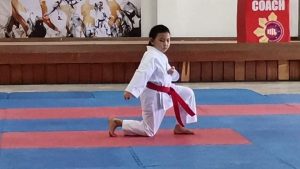 At the start of the implementation of health protocols, sports groups could not do anything but to cancel everything that they had prepared for the year. Some groups, however, despite the danger of getting disciplined for violating these protocols, resorted to their own versions of bubble even just to train their athletes. 
Desire to train
One sports team of a Manila-based university whose athletes were made to train at the farm of their coach, resulted in the resignation of their coach who has faced a ban in the league where the school is participating in.
The case of the men's basketball team of the University of Sto. Tomas was well documented that it hogged the headlines for several weeks. Based on the story, in August, the university investigated whether the coach violated quarantine protocols when he brought to his province the athletes to train. The investigation came about after one of the players made the accusation eventually leading to the resignation of the coach who was also banned from coaching in the University Athletic Association of the Philippines where the school is a participant.
A month earlier, in July 202, government regulating bodies in sports, including the Philippine Sports Commission (PSC), came up with regulations on what sports groups could hold competitions, particularly those involving face to face.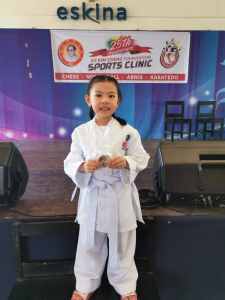 Specifically, under Section V-3 of the Joint Administrative Order 0001 of the PSC-Department of Health-Games and Amusement Board, "non-Professional sporting events such as tournaments, competitive events, and athletic meets shall not be permitted. "
"Professional sporting events may be allowed in low-risk areas, provided such events are compliant to the minimum public health standards," it added, although it said that "no live audience shall be permitted regardless of the risk severity, until an effective vaccine and/or appropriate standard of care for COVID-19 cases is developed."
New venue
The lull in the competitions was short-lived, as some groups, particularly those who hold their event matches by showcasing individual talents, resumed their competitions using cyberspace as their venues.
The virtual venues have a certain appeal to mostly young athletes as they are familiar with making videos for their respective Youtube channels as well as allowing them to still compete even when the only members of their respective audiences are members of their families and sports groups, particularly their coaches and colleagues who are also their friends. Those who judge only view their performances online, unless of course those who play matches in the virtual venue.
While online competitions usually favor games like chess, some other sport organizations have resorted to using it as their venue. Among the organizations are those holding competition in action-packed sports, although in a limited way, like Karate.
Child prodigy
Among the groups that have benefited from this new form of competition venue is the Association for the Advancement of Karatedo-Davao City Chapter, a group under the leadership of chief instructor Rommel Tan, who is also the regional director of Karate Pilipinas.
Since the holding of the events both locally and internationally, the association has emerged as among the biggest winners. One of its stars is a seven-year-old Karateka, Heleina So, who helped tow her team to bring home the awards since the resumption of competitions.
A daughter of businessman Dexter So, Heleina only started competing last year and also earned honors, but these awards pale in comparison to the virtual tournaments.
In the 2020 Karate Pilipinas E-Kata Championships last month, Heleina won gold in her age bracket as the entire team brought home seven gold medals, three silvers and five bronzes, just a gold medal short of the over-all champion SKO-Cebu City.
The medal was the second gold for the young karateka as she also got a similar medal in the 3rd Annual Karate Hakuakai Philippines Championship Online Karate E-Kata International tournament a month before.
Tan shared that Heleina is known not only for her dedication in improving her craft, but also her determination to succeed. "She always makes sure to follow every step that her coach is teaching her," he said.
In the report that appeared on the TIMES, Tan said, "We are proud of Heleina's performance in both tournaments, scoring back-to-back gold medals. She only started for almost a year and yet prove she has the potential at her age." 
Dexter told TIMES that Heleina's love for the sports only started last year when she and her father went to the gym of the association to watch other kids train. Admitting that he encouraged her to train, it was Heleina who "actually wanted to do it."
"She felt comfortable, she joined their exercises. Then they started teaching her the Katas," Dexter said in an e-mail, pointing out that members of the family were there to assist her when she was performing for the events. 
Under the new setup, the performance of the athletes is either live streamed or recorded for an online broadcasting so that judges can view it.
For the uninitiated, Kata is a competition where the practitioner showcases the Karate movements to a panel of judges. 
Dexter said when she started competing late last year even in front of people, Heleina was already so focused on her routines even when the crowd was on its feet to cheer her on. "Although her highest achievement that time was only silver or bronze, this only motivated her to try harder," he said.
A name and a legacy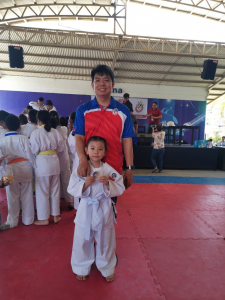 But to her father, one key highlight of her very young career was on July 26 last year when she performed during the 25th So Kim Cheng Sports Awards Night held at Apo View Hotel.
The event was the celebration of the achievements of local athletes who were recognized in their respective fields and who were awarded with plaques bearing the name Mr. So, considered among the few top patrons of sports in 1980s and early 1990s.
Mr. So, who died in 1994, was known for being the key mover of grassroots sports development not only in the city, but also in the entire region, having been the regional head of the Philippine Olympic Committee at that time of his death. 
Incidentally, Heleina was Mr. So's great granddaughter.
Dexter, Mr. So's grandson, has been active in the local sports development, having been the president of Davao City Sports Council Inc. while Dexter's father, So Peng Kee, is the chair of the So Kim Cheng Foundation Inc., the two bodies that collaborate in giving the annual awards.
Coping mechanism
Dexter said that since the start of the pandemic, training has become Heleina's refuge. "Even though they were not allowed to go to the gym and school, she would insert practicing her Katas in her daily routine."
He said Heleina has developed her own routine at home both online and offline, including her practices as well as her schooling.
The good thing, he said, as that the family is motivated to allow her to continue her sports activities as "it promotes self-esteem, confidence and discipline. "
Education is priority
Dexter said that despite her passion for her sport, the family has continued to encourage her to also focus on her education with the new education learning system being an adjustment period for her, like all other children her age. 
"They (schoolchildren) were used to teachers guiding them; (but) right now, they have to guide themselves," he added.
He said the family always reminds her "to discipline herself to do her work and manage her time properly because if you don't manage your time well, you might end up doing other things and you will not have enough time for your schoolwork, practices or other important activities."
She has been able to balance her time as she makes "sure that she has the time to finish all her schoolwork, do her exercises and have time for her to relax and have fun."
Just like in the case of any other athlete in the world, he said, the pandemic may have presented a big challenge to his daughter being a student of her sport. But her unwavering passion for it has catapulted her to succeed even at an early age.
He hopes that maybe one day, it would be her turn to raise a plaque bearing her great grandfather's name. The goal maybe lofty, but is not far-fetched.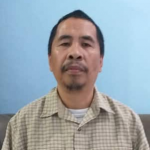 Managing Editor at Mindanao Times