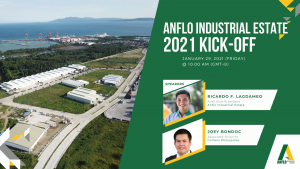 Anflo Industrial Estate kicked off the year 2021 in an online event last January 29, 2021 and present to share their expertise and knowledge in the real estate industry were speakers, Mr. Ricardo F. Lagdameo, First Vice President of Anflo Industrial Estate Corp. and Mr. Joey Roi Bondoc, Associate Director of Colliers International Philippines.
The Anflo Industrial Estate (AIE) is dubbed as "the Philippines' Premier Agro-Industrial Hub". Following its PEZA accreditation in 2015 and launch in 2016, AIE welcomed several local and foreign locators such as Del Monte Fresh, Phildutch Polymer, PMR Pallet, Packwell, and Manly Plastics.
Within the span of five years, 33 hectares have been developed including 2.1 hectares of ready-built facilities and warehouses and 2.06 km of roads. Despite the pandemic, AIE has continued expansion through the development of a main spine road and two ready-built facilities. Mr. Lagdameo reported a total of 15 locators to date, 5 nationalities represented and a total of 600 employees already in the park. Among these locators, four of them were able to start their operations in 2020. These locators included Davao Zhenzhi Corp., PMR Pallet Ltd. Co., Southern Harvest, and Connovate Philippines. Japanese paper packaging company, Packwell, Inc., started construction in the park during the pandemic.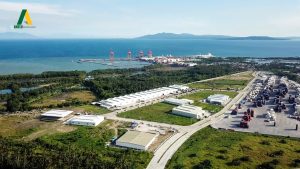 At just 289 employees at the start of January 2020, Mr. Lagdameo reported that it now has 600 employees working within the estate. An increase in vehicle traffic was also reported from 381 at the beginning of last year to 543 vehicles. AIE launched a guided and virtual tour as an initiative to showcase the project as the pandemic pushed the estate towards strengthening online platforms. In November 2020, AIE brought home the coveted Best Industrial Development at the 8th PropertyGuru Philippines Property Awards  with it being a true testimony of AIE's resilience amidst the pandemic.
Mr. Lagdameo also reported several exciting projects planned for 2021 including the launch of their commercial area through a one-storey commercial building and completion of its much awaited, cold storage facility. AIE also reported that sister company, Davao International Container Terminal, Inc. (DICT), a world-class port terminal facility just 300 meters away from AIE, is currently expanding its berth and will be operational by March 2021.