SINCE 2003, Malagos Garden Resort has become home to rescued and rehabilitated birds. Over the years, the resort has welcomed both wild and domesticated birds from various donors around Mindanao.

"Most of the time, endemic rescued birds are released back to the wild as soon as they recover. However, the non-endemic ones continue to stay under our care," shared Dr. Bo Puentespina, a doctor of veterinary medicine.

Some of these rescued birds are amputees – with broken legs or wings – or undernourished due to their past conditions. While others were hatched and raised as pets by previous owners that they have lost the skill to hunt for food or do things based on their natural instincts.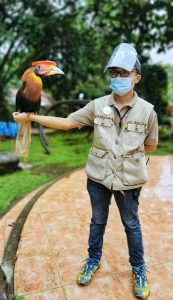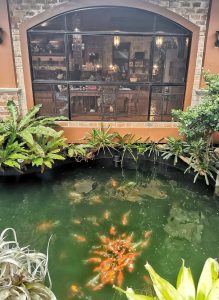 In spite of their state, the resort openly took these birds in, providing them with their daily sustenance and rehabilitated them to regain their natural confidence. They also afforded them space where they can live as close as to their natural habitats.

A chosen few were trained to be "bird ambassadors" and were featured in the resort's wildlife show where they "teach" visitors the importance of preserving the environment.

Recently, the resort trained the bird ambassadors to take part in pre-nuptial activities and other intimate celebrations in the resort. Guests can also safely interact with them on scheduled presentations.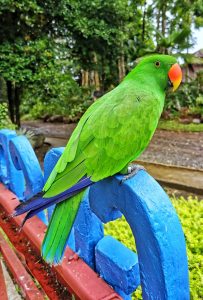 "These birds love being around people. After our temporary closure due to the pandemic, we're glad they can interact again with people," Puentespina added.

The birds join the resort's newest residents: 109 kois that have found home at the newly spruced up lagoons adjacent to Viewdeck Cafe, Roberto's Garden Restaurant and Koi Cafe.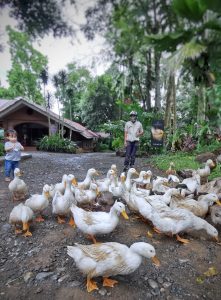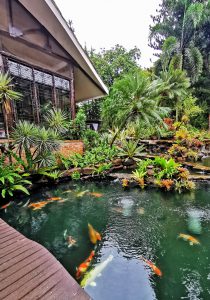 Koi enthusiasts will definitely enjoy watching Red Chagoi, Ginrin Benigoi, Kohaku, Sanke and Showa and Yamabuki varieties gliding beneath the pond's crystal clear waters. The largest in the batch so far is an 80 cm Yambuki.
Malagos Garden Resort strictly requires guests to follow basic health protocols in order to make these activities fun and safe at the same time.