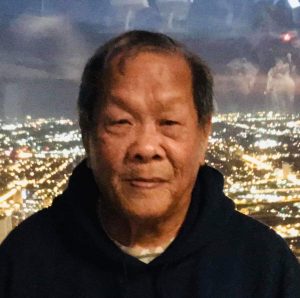 "HAPPY 80th birthday, Papa! Let's face it turning 80 is a big deal! Hindi lahat ng tao sa mundo is lucky enough na mag celebrate ng 80th birthday!

"You have worked super hard in life! Kung anong success I have acquired in my life today is all because of your timely guidance to me.
"You are the wisest person I know. Even though I am 45 years old myself, I will always be Papa's little girl.
"Again, happy 80th birthday, Papa! I love you."

Yes, I'm now a certified septuagenarian after I announced to the world week's earlier that "I will be 80 years old this coming January 17." That was yesterday.

I met my compulsory retirement as mandated by law as GM of this paper at the age of 60 in the year 2000. I didn't expect that I would reach this far as I only prayed to God then for five years more to live as I still have an unfinished obligation to my family and commitment to this paper since the Boss wanted me to continue serving as its columnist.
God answered my prayer. HE not only gave me five years but more. I believe that HE granted my prayer not only because I and my employer asked for it but HE, too, has a mission for me. My stay has been extended and until today, the reasons are too profound for me to understand.

At any rate, I will continue to believe that love for family and loyalty to the job would inevitably be the measure of a man. After my birthday announcement a week before the Red Letter Day, messages of best wishes and prayers from countless-friends, relatives, and acquaintances from as far as the United States, Canada, Middle East, Metro Manila, and this city, were posted through Facebook and Messenger.
The personal calls through cell phone and landline also kept on coming up to this writing. Thank you! Nakakataba ng puso ang inyong pag-aalala. Yes, names of concerned well-wishers who reached out to us and arranged not in alphabetical order but based at the time I received them are hereby published to show how I valued their warm congratulatory messages: May Limos Faco, Bheng Tinitigan Niones, Brix Mila Gementiza, Jesus Jess Dureza, Peter Tiu Lavina, Nicanor Dumasal III, Rossano Luga, Maryknoll Hondos Gabutero, Cheryll Caballes Arrizgado Payumo, Jimmy Torres, Raven Renz Rein, Manuel Sese, Madelyn Sese, Emilord Castromayor Watin, Mercy Bustamante, Celestino Siglos, Jinkee Milan, Dominic Carpio, Amalia Montecillo Bandiola, Joselito Dumasal Manabat, Yolanda San Pedro, Bong San Pedro, Ana Marie Gavilo Silpao, Virna Gomez, Anne Nadela, Mercy Tanoy, Pogi San Pedro, Assy Orped, Mary Jane Mateo Tesoro, Maricris Rizzo, Hermie Miguel, Dodong Abellana, Jimroy Francisco Milan, Maria Amihan Manabat, Marife Parame, Estela Estela, Nathan Hilgendorf, Jestoni M. Trayco, Roque Dumasal, Ji Ni Milan, Mark David C. Manela, Maricris Benoza Tinitigan, Kerby Tinitigan, Jas Huang, Melanie Zamora Lao, Rodalyn Tinitigan, Crystal Chloe Tinitigan, Rendy Tinitigan, JL Tinitigan, Tatianna Tinitigan, Maria Fe Alino, Emil Miguel Gementiza, Joy Edjc, Jordan Silva, Christine Tinitigan Apolinario, Willie Miguel, Balmis Tancontian Diao, Raven Renz Rein. Other names not mentioned here were acknowledged through FB and messenger.

Now I know for sure that when it's time for me to go, hundreds of those lives I've touched and lives that continue to cross paths with me until today will be around to witness my final journey in life.  Call it weird but we have to accept reality as we all came from ashes and will back to ashes when HE calls us. There is no such thing as forever, remember? Every story has its finale.

And while I am still here, even outliving some of my best friends who were much younger than my age, I only expect more birthdays for me in the coming years. Happy birthday to me! Again, thank you Lord for your continued presence in everything I do. Walang tulugan ang last 24 hours of my celebration.

Here's another one from Nathan (Hilgendorf, Tala's fiancé from Illinois, USA): "Happy birthday Papa! The big 80. Although I've only known you for 5 years as I met you for the first time during your diamond celebration of 75 years. I have learned that you worked very hard through your life coming from very little and raising a family of very successful and professional children. Happy birthday and congratulations on the big 80!!!"

Meanwhile, New Years' resolutions are not in my vocabulary. I do not want to make promises that I might break.
Plans for the coming years, I say yes. Even at these twilight years in my life, I am still capable of pursuing whatever I have started for my family – continue watching for their betterment and for those that still believe in me.