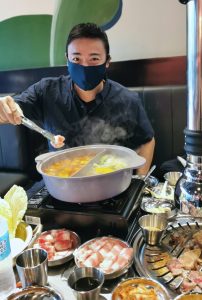 THANKS to KPop and Korean dramas, the world now has more than just a glimpse of Korean culture and lifestyle including our fondness for their cuisine, most especially samgyeopsal. Samgyeopsal literally means "three layer flesh" in Korean, referring to the striations of lean meat and fat in the pork belly that appear as three layers when cut.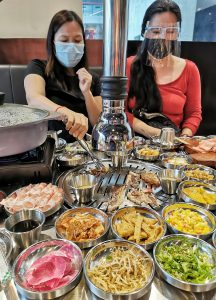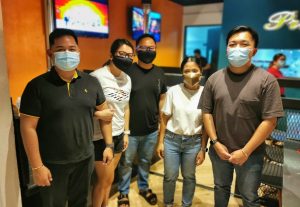 In recent years, samgyeopsal fever has spread all across major metropolises in the archipelago.

Last December 19, 2020, Premier The Samgyupsal gave Dabawenyos an honest-to-goodness samgyeopsal experience when it soft-opened at the ground level of The Aeon Towers along JP Laurel Avenue.
Known for using prime meat in their samgyeopsal and other meat dishes, Premier The Samgyupsal is the first branch of the popular Manila-based chain here in Mindanao. To date, it has 15 branches in Metro Manila and 1 in Cebu. An Iloilo branch is set to open this year.

The Davao outlet is franchised by friends and business partners Engineer Mendrado Canusa VI, Marie Melissa Canusa, Mendrado Canusa V, Ralphtrin Gel Hermosisima and Architect Louise Prieto.

The Davao branch, which has a unique black and red theme, was designed by co-owner Architect Prieto and constructed by another partner, Engineer Canusa.

"The Premier is known for our use of aging machines for our high quality meat. We also serve USDA Certified imported beef, and other marinated meats," said Hermosisima.

Using charcoal grill has also made their samgyeopsal a cut above the rest.

"Charcoal grilling, as opposed to using an electric grill, is said to give a more caramelized exterior to the meat while bringing out a smoky flavor to the meat," said Canusa V.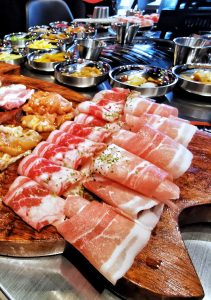 The Davao outlet was initially intended to operate early this year until the pandemic happened.

"One of our major concerns was that consumer behavior would change due to quarantine restrictions. Fortunately, we still to continue to receive numerous reservations," shared Canusa V

As a welcome treat to their Davao diners, Premier The Samgyupsal is offering the following samgyeopsal sets: Unlimited Pork and Chicken for only PHP 458; Unlimited Mix (Pork, Chicken, and Beef) for PHP538; Unlimited Shabu Shabu for only PHP 538; and Unlimited Mix Plus Shabu Shabu for only PHP 738. All sets include, at least, 15 unlimited side dishes, unlimited steamed egg, unlimited kimchi jjigae, unlimited doenjang jjigae, and unlimited iced tea.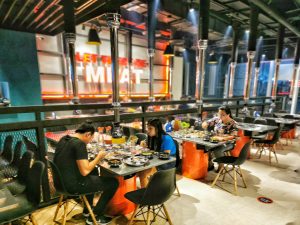 "Our full capacity is 108. However, under the general community quarantine, we can only accommodate 79 diners for now," Hermosisima explained.