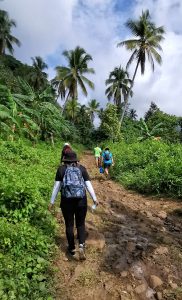 THEY  say ecotourism in the new normal is actually the old normal. The new experiences take us back to the days when we – usually with a small group of friends – do soft adventure activities in wide-open spaces.

To advocate for safe and responsible tourism in the new normal, the Municipality of Sta Cruz, Davao del Sur has made use of the many idle months during the pandemic in training guides and porters, preparing tourism sites, and identifying and enforcing carrying capacities to manage tourist flow.

These initiatives have allowed the municipality to gradually bring back the vitality of local tourism and its allied sectors after being pummeled by restrictions implemented to reduce the spread of the coronavirus.

Two days before 2020 ended, municipal tourism officer Julius R. Paner, introduced us to yet another nature-based activity in their municipality: hiking to Pilan River in Barangay Sinoron.

The hike to the river started at the Sinoron Barangay Hall, which serves as a jump-off point. The narrow, often muddied trail, took us to a gradual ascent leading to a hanging bridge that traverses the Pilan River. Fortunately, portions of the trails were paved, giving us occasional respite.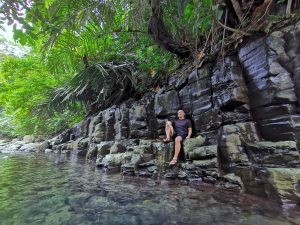 The 3.5-kilometer hike afforded us a refreshing vista of colorful gardens of local flowers planted by residents of Sitio Pilan.

An hour and a half later, we finally reached the hanging bridge. We immediately descended to the riverbank where pools of cold mountain water were formed by several boulders. According to Julius, the roughly 25 kilometer-long Pilan River emanates from the forest of Sinoron, stretching down to the coastal areas of Sta Cruz.

Wasting no time, we wandered around the picturesque (read: Instagrammable) sites in the area, including unique rock formations and the 30-foot Bagon Spring (reminiscent of Asik-asik and Kurtina falls).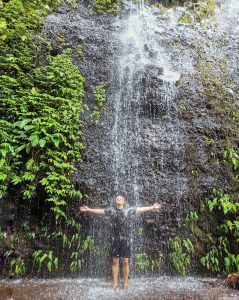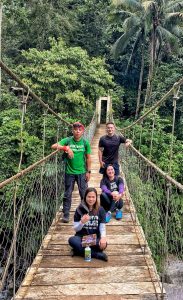 For visitors, there are designated areas for day camp. However, there are no food vendors in the area, hence, it is recommended to bring your own lunch packs. Just make sure to bring all your trash back with you when you leave.

Low-volume eco-tourism experiences in remote areas, such as Pilan River, where the risk is very low, do not only allow visitors to enjoy safe spaces, it also gives them the opportunity to help local tourism get back on its feet again – slowly but surely.

Interested visitors to Pilan River need to register first at the municipal tourism office. A guide will be assigned by members of the tribal council. The rate is PhP350 per guide for a group of five.