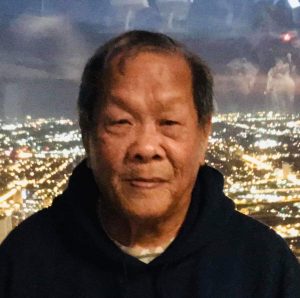 I WILL be 80 years old this coming January 17, the age anyone can be proud of even if he/she came from a poor family like mine.
Being poor will not be a hindrance not to overcome the hardships in life. Instead, make it a challenge to escape poverty and reach your goal in life.
Sixty one of the 80 years were spent with this newspaper I consider my second home. I will not ask God for more as HE seems to have given me everything I asked for when I was still struggling to survive and dreamed of giving my own family a better life.
I am the lone survivor after the death of my parents and five siblings.
Hopefully, a decade from now, when I will be 90, the age Boss Willie in his message during my Diamond Year celebration wanted me to be, while at the same time wishing me to continue to be a part of the TIMES.

I will not fail him dahil mahal ako ni Lord. The P100,000 President Duterte will give to those who will reach a centennial year (100 years) as mandated by law is no longer in my mind. TIMES Lifestyle writer Marilyn Roque wrote a synopsis of that lavished 75 years birthday celebration held at Royal Mandaya Hotel on January 9, 2016. Kamusta ka na Marilyn?
"IT was a week earlier than his actual birth date, which is January 17, but it was the right time to invite friends to a grand celebration at the Lantawan Hall of the Royal Mandaya Hotel.

"Loreto Dumasal Tinitigan, known as the Timesman, received his guests with his family, prepared a video presentation of his life and career as a journalist. Surrounded by the "Shanghai Boys", "The Retired Dangerous Band", and former colleagues in the media, Loreto was a picture of a man who has fulfilled his dreams of a lifetime.
He made sure that his life partner, Virgie, who passed away in 2014, was given a tribute, whose life as a devoted wife and mother was not to be forgotten for the rest of their life as a family.

"Turning 75, Loreto considers the Diamond Year as a great accomplishment as a husband and father. This was further mentioned by Dr. Guillermo P. Torres Jr. President of the University of Mindanao and Mindanao Times who was Guest of Honor and speaker at the birthday celebration. He was introduced by the Timesman's youngest son Jin Lorenz with the celebrant's only daughter Tala, who came all the way from the United States for the occasion to give the welcome address.
Mindanao Times Publisher Atty. Jesus Dureza was among the guests who shared memorable stories in the life of Loreto. At the same table also sat Antonio M. Ajero, Amalia Bandiola-Cabusao, Editor-in-Chief of the Mindanao Times, among others."

What about the book the boss wanted me to write with a promise that he will shoulder the printing expense? I started working on it as part of the story was already a public knowledge after I published the same on the day of my Diamond Year celebration and in some previous columns.

But the turn of events changed my world unexpectedly for the better when my daughter Tala petitioned me in 2019 to be an American citizen like her. My immigration visa was approved in record time in Manila and eventually made the trip to the US. I got my Green Card (permanent resident) status while enjoying my almost five-month stayed abroad.

Here comes the Covid-19. I was enjoying my three-month vacation here after I returned from the US when President Duterte declared the country under a state of public health emergency because of the pandemic. Mayor Inday Sara immediately placed Davao City under lockdown a week before my scheduled returned trip to US to continue working on my naturalization papers.

While on forced quarantined in my house due to lockdown, I've decided to stay put here and gave up my Green Card and other US privileges given to its citizens after it was reported that the US topped the list of Covid-19 victims around the world.

About my book, I am also thinking of giving it up not because of the deadly virus but to give due respect to the memories of many of my departed friends I've mentioned in my writing. Memories of our happy moments and missed adventures, but most of all our sins committed while we were still together. Sins (Who has not?-LDT) have remained secrets to everyone they left behind, secrets that the departed brought to their graves. RIP my friends!

-o0o-

Happy birthday to my eldest son Jojo who will be 52 years old today!