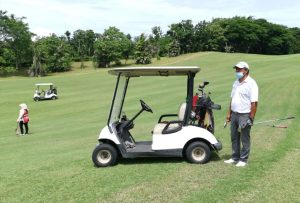 DAVAO CITY – Local golfers can still continue to enjoy the fairways in 2021 despite the ongoing pandemic state on the year's first quarter.
Tommy Inigo, general manager of the Rancho Palos Verdes Golf and Country Club, bared Monday, January 11, that they have adopted some improvised rules under the "new normal," especially for the caddies who are now allowed to accompany their respective players during flights.
According to Inigo, caddies must strictly comply with the use of face masks and face shields, plus hand gloves, whenever they accompany the players. It's mandatory for them to bring their own disinfectant spray. They are allowed to hold the club heads but never the grip of the club. They are also not allowed to drive golf carts.
"Mostly caddies will just guide the players on course direction and fixed divots at the fairways. It's also mandatory for them to observe physical distancing with their players," he added.
Inigo further stressed that golfers are allowed only two hours of play as per directive by the Local Government Unit (LGU).
"Most regular players can only finish nine holes within the two-hour span, but for faster and seasoned golfers they can finish 12 to 18 holes," he said.
The Rancho Palos Verdes Golf and Country Club, along with South Pacific Golf and Leisure Estates and the Apo Golf and Country Club, is strictly implementing these safety protocols in the new normal under General Community Quarantine (GCQ) state in which the city of Davao is still designated.
Golfers must still follow the safety protocols, including the use of a face mask, one player per cart, bring your own towel/water container, and a maximum of four persons per flight. They must avoid large gatherings on tee mounds, handshakes or high fives, no use of lockers, and must advise the club prior to their playing day schedules.
On the other hand, the Rancho Palos Verdes Golf and Country Club already opened its clubhouse for dine-in but will only accommodate 30 percent of its playing customers.
"For now, there will be no tournaments as to avoid gatherings," he said.