A NIGHT of joy transcended beyond the screen as Davao Colleges and Universities Network, Inc. (DACUN) celebrated its Christmas party virtually dubbed "Virtual Christmas Get-Together 2020" with the theme, "Building Hope and Resiliency among the DACUN-Member Institutions amidst the Pandemic" on Dec. 18, which was capped by a showcase of talents and giving of raffle prizes.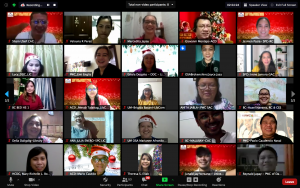 The network opted to celebrate Christmas as a thanksgiving for a fulfilling year despite the challenges brought by the crisis. DACUN thrived in realizing its mission to be a dynamic educational network that makes a difference through collaboration by creating an environment where member schools work together for the common good and for the advancement of the interests of the education sector and its stakeholders in Davao, and Mindanao; hence, materializing this year's theme of hope and resiliency.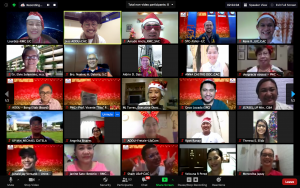 Prof. Vicente Antonio V. Pijano, DACUN president and chancellor and COO of PWC of Davao, heartwarmingly opened the fun-filled celebration by quoting Professor Dumbledore in JK Rowling's famous Harry Potter series saying, "Happiness can be found, even in the darkest of times, if one only remembers to turn on the light."

The pandemic failed to hinder the overwhelming passion of the twelve (12) member educational institutions to join the online party thru video conferencing namely: Assumption College of Davao (ACD), Ateneo De Davao University (ADDU), Brokenshire College Inc. (BC), Davao Doctors College (DDC), Holy Cross of Davao College (HCDC), Philippine Women's College of Davao (PWC), Rizal Memorial College (RMC), San Pedro College (SPC), University of the Immaculate Conception (UIC), University of Mindanao (UM), University of the Philippines – Mindanao (UP-Min) and University of Southeastern Philippines (USEP).

The highlights of the celebration included the Kumukutikutitap Tiktok Challenge and Christmas Yell Competition which was participated by the different committees on Community Extension, Finance, Learning and Instruction, Internalization and Linkages, Library, Research, Student Affairs hosted by the Culture and Arts Committee. The Community Extension Committee and the Internalization and Linkages Committee rose as winners in the said competitions respectively.

Everyone got excited during the giving of raffle prizes where everyone burst to laughter because of the thrill of the online wheel. Raffle winners received cash prizes. It was the first time for the network to celebrate Christmas online. However, as usual, it culminated with genuine joy, renewed friendship and fortified hope for DACUN to thrive amidst the pandemic – believing that as one network, it can continue to make a difference.

The DACUN Officers and Board Members for SY 2020-2021:
President : Prof. Vicente Antonio V. Pijano III (PWC of Davao)
Vice-President: Prof. Larry N. Digal (UP-Min)
Secretary : Rev. Oliver T. Paraiso (BC)
Treasurer : Sr. Elvira D. Soleminio, m.a. (ACD)
Auditor : Dr. Lourdes C. Generalao (USEP)
Board Members:
Fr. Joel E. Tabora, S.J. (ADDU)
Prof. Miguel D. Soledad (DDC)
Bro. Noelvic H. Deloria, SC (HCDC)
Dr. Evelyn A. Magno (RMC)
Sr. Aida T. Frencillo, OP (SPC)
Sr. Ma. Marissa R. Viri, RVM (UIC)
Dr. Guillermo P. Torres, Jr. (UM)
Executive Director Maria Julieta R. Torres, CPA, MBA
By: Monico P. Malubay, MAEd