Davao region's year-on-year regional inflation continued to decrease to 1.4 percent in December 2020. The current inflation was relatively lower as compared to the previous month and to the same month of the previous year at 1.6 percent and 2.0 percent, respectively. Further, the purchasing power of the peso (PPP) which measures the real value of the peso in a given period relative to a chosen reference period remained at 81 centavos (see Table 1).

The downtrend of inflation in December 2020 was partly attributed to the slower annual increment in the index of Food and Non-Alcoholic Beverages from 1.3 percent to 0.3 percent in December (see Table 2). Other commodity groups that drive the downtrend of inflation in December were the following:
Furnishing, Household Equipment and Routine Maintenance of the House, at 2.5 percent from 3.3 percent;
Clothing and Footwear, at 1.5 percent from 1.8 percent; and
Alcoholic Beverages and Tobacco, at 7.1 percent from 7.3 percent.
On the other hand, higher annual increments was reported in the indices of Transport and Housing, Water, Electricity, Gas, and Other Fuels at 3.2 percent and 2.1 percent, respectively. While the annual growth rate of Education index remained at 0.1 percent.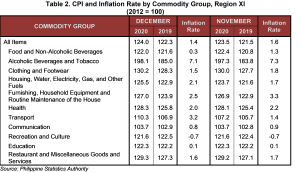 Inflation in selected food items was significantly lower specifically in the indices of Fruits (1.2% from 6.3%) and Fish (-3.4% from 1.4%), while, higher indices were observed on food items such as Meat; Vegetables; and Sugar, Jam, Honey, Chocolate and Confectionery at 6.4 percent, 2.7 percent, and 1.4 percent, respectively (see Table 3).
Headline inflation in the Philippines hits 3.5 percent in December from 3.3 percent in the previous month. Among the 17 administrative regions, Cagayan Valley (Region II) and Bicol Region (Region V) had the highest inflation each having a rate of 6.6 percent, while Central Visayas still had the lowest inflation at 0.9 percent (see Table 4).