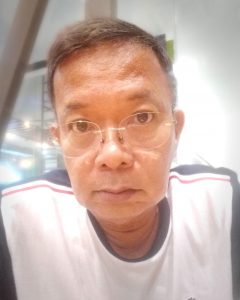 WHAT'S the first thing that goes whirring in the minds of people when they wake up on mornings? Now that must be an interesting thing to ponder these days. The thought that even with the advent of a new year, we're still stuck knee-deep in this pandemic, that surely is one serious contender right there. At least for me, it is the one remaining constant, churning and winning out from all the other interesting ideas that go bump in this devil's workshop mind of mine.

Actually, from the time I prepare for bed at night, to my moments of sleep, and up till when I wake up, it remains as the one irritant sensation that spoils my waking up, out from a fresh and dreamful sleep; that the pandemic is not over.

Alas, how can one ever enjoy again those momentary blissful seconds of ritualistic curling up, at the very edge of wakefulness, right before finally springing out of bed and welcoming a cold cold morning? As a kid, I fondly remember these fun times: opening your eyes, slowly familiarizing with the surroundings and the relatable noises of the morning, and then finally enjoying a slight sniff of what is to be breakfast.

Nowadays, how can you? Are those moments finally gone forever, stripped out from this so-called new normal? For Dabaweñyos familiar with our city motto "Life is here," some of us wake up and the first thought that has replaced it is: COVID is here. Especially with all the trials thrown at us during the last year, should we have, at least, a vacation on these things? If that were only possible.

Aside from it all, I have had quite an interesting brief chat with a friend earlier today. He had mentioned my writing, in particular the one about the typical smiling Pinoys in the face of hardships. In his own words, he had said, "Typical… the smiles in face of hardship… the we-are-all-in-this-together attitude… tough times don't last…just tough people."

Tough times for a tough, but smiley people would be a correct statement. So that leaves me with this, what am I complaining about, Les? For all that this precious life is worth, it is a new morning indeed! It's a blessing. Never mind that COVID is still here. I should take it off the top billing of first thoughts that come when I wake up and just celebrate the new morning with a thank you, I survived the night. After all, I totally get when you say, "tough times don't last…just tough people." And yes, typical.