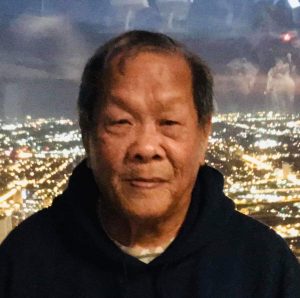 "HELLO sir good morning and Merry Christmas, ako diay ni sir katung gitabangan nimu manganak sa SPMC hehe. Dako na ang akong anak sir two years old na sir. Salamat ug Godbless."
I received the message on Christmas eve from a young pregnant mother I helped bring to Southern Philippine Medical Center two years ago.
I was in my car then in front of our house at Damosa Fairlane waiting for my son Jin Lorenz for his early morning class at Ateneo de Davao University when she approached my car and begged to bring her to SPMC.
"Sir, sakit na kaayo ang akong tiyan, manganak na yata ako sir," she said.
"Ha, sige sakay," was my first reaction then without asking who and where she came from. In a situation like this, when the life of unborn child and the mother were in your hands, no God-fearing human will think twice not to help. This is not my act, but God. Ewan ko sa iba.
While exiting the subdivision gate, I instructed the security guard to inform Jin Lorenz that I was assisting someone to the hospital and he should just wait for me at the guard house as I would come back for him after rushing the poor girl to SPMC.
Along the way, the girl (I only learned her name Rachel two years later) who was then seated at the back seat and in pain, said: "Sir, sir, dali-a mu labas na!" When I glanced at her, I saw small amount of blood oozing from above her knee.
"Huwag, hold muna, malapit na tayo," I told her.
Upon reaching SPMC, hospital attendants immediately put her in a stretcher and rushed her inside the delivery room. At this moment, I heard her saying: "Salamat sir, salamat!" While I was about to drive back home for my son, the security guard signaled me not to leave yet and asked: "Sir, unsa man ang ngalan sa imong misis ug asa mo nagtira?"
"Ewan ko hindi ko alam hindi ako ang mister at hindi ko siya kilala. Tinulungan ko lang makarating dito," I answered while laughing at myself.
I then gave the guard my calling card with instruction to give this to her.
"Ang bait mo naman, sir," he said.
In the evening of the same day, I received a text message from her: "Sir, ako po si Rachel yung inihatid mo sa SPMC. Tenkyu talaga po, nasa stretcher pa ako lumabas na ang bata. Sulti sa nurse kung nadugay-dugay pa sa kalsada na ako nanganak."
"Ang bait mo daw, sabi ng nurse," Rachel continued.
When I posted a portion of Rachel's message on my FB on Christmas Day, some netizens reacted. Among them, Melinda Petalcorin of UMBN, said: "Good samaritan ka kc sir"; while bike-rider Dominic Carpio texted: "Idol po kita sir Loreto..ako man po ay natulungan nyo rin.. noong baguhan pa ako sa trabaho sa Mindanao Times press area. (Dino is now the operation manager of the paper and the printing press we both started in 1997 for the University of Mindanao – LDT)."
I almost forgot Rachel and the child when I received again her text message after two years. And in the succeeding exchanges of messages the last few days, I further learned that she was a single mother to her son she named Luke (sounds Lor..) with two other young siblings as they live in a rented house in the city with her parents who are both senior citizens.
She is looking for job, even as a kasambahay to help her parents in taking care of her children.
After the death of my wife Virgie in 2014 in our old place in Matina, I stopped hiring kasambahay believing that with Jin Lorenz and I living alone, we don't need them anymore as I can easily do the daily household choir.
Once a week, the kasambahay of my eldest son Jojo comes to the house to do the general cleaning since and until today.  But while the will to do the daily routine of a kasambahay still there, my body seems no longer capable of doing so because of my age.
Rachel's coming is yet a blessing in disguise as my daughter Tala from abroad insisted that I have to hire a kasambahay especially now that I am under medication and my BP is being monitored by her 24/7.
For the second time, I might again of help to the mother and child as she started working as kasambahay to me the last four days.
And for her part, Rachel said: "Sir, di malintan ng akong mga anak ang imung pagtabang sa ila." Happy 2021!
-o0o-
Our condolences to the grieving Tesoro-Pereyras families on the death of their beloved Luz who passed away at the age of 85 last Dec. 26. Her remains now lie at Rubio Funeral Homes, Tagum, Davao del Norte. Goodbye, my friend. RIP!