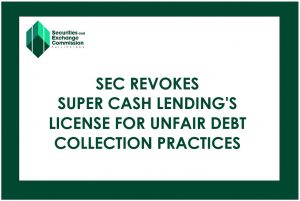 The Securities and Exchange Commission (SEC) has cancelled the certificate of authority to operate of a lender for its unfair lending practices, including shaming its borrowers.
In an order on November 11 but released only December 28, the SEC Corporate Governance and Finance Department said Super Cash Lending Corp. committed nine violations of the SEC Memorandum Circular No. 18, Series of 2019 which defines the acts that are considered unfair collection practices.
The SEC department noted that the company uses its only platforms Super Cash, Cash Porter, and Loan Bee, not only used social media in threatening its borrowers through shaming and threats of criminal cases, but even threatened them with physical harm.
 "Worse, in one of the screen captures submitted by one of the complainants, messages showing threats of inflicting grave physical harm upon the person of the complainant could be seen. These unfair collection practices are all too obnoxious to ignore," the order noted as it pointed out that the company even used profane and abuse language in its debt collection activities as they also threatened the borrowers of having them blacklisted with the National Bureau of Investigation.
Under the memorandum, a company can lose its license to operate depending on the grave acts committed. "[T]he revocation of respondent's CA is not merely appropriate, but rather necessitated by the gravity and number of its offenses," it added, pointing out that the memorandum took effect in September last year as the response of the agency to complaints against some lenders that resorted to abusive, unreasonable and unfair debt collection practices.
SEC Commissioner Kelvin Lester K. Lee said in the press statement that the agency respects "the right of lending and financing companies to formulate and adopt certain strategies to effectively collect debts and secure their profitability."
"However, harassment and other abusive or predatory practices will never be acceptable and tolerated. As we pursue erring lending and financing companies, we also advise the public to be cautious and mindful of their transactions with entities representing themselves as such," Lee said.
The agency also revoked early this year the license of another lending company, which operated three other online applications, for committing similar violations. It also ordered those behind four other online applications to stop their operations because they were not licensed to operate.
Aside from the regular registration with the SEC, companies that want to go into lending operations must also secure certificate of authority to operate.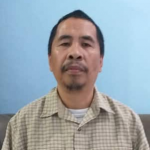 Managing Editor at Mindanao Times