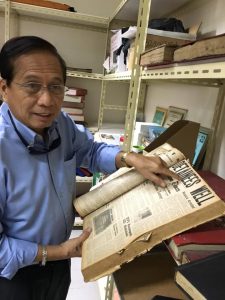 IT'S about a heartwarming story of a person who had to forego things he loved most so another could live. It's about a friend who decided to give one of his kidneys to an ailing brother who hopefully may live a longer and fruitful life.
My friend, RENNE SUBIDO, had been doing Mindanao development work in various fields in the private sector for years. I knew him when he was at a USAID project doing Mindanao projects during my stint with government. He later on became a top executive at a big international fishing company owned by General Santos City-based businessman RUDY RIVERA (father of the Gensan Mayor RONNEL RIVERA). I also worked closely with Renne at TVIRD, an affiliate of a Canadian mining company where he was one of its top executives.
Months before the organ donation in 2013, Renne talked to me about the need to forego many things if he would donate his kidney to brother NANDY. There would be health risks, change of lifestyle, even some shifts in workloads and schedules. Even change of residence. Although there were obvious concerns, it was clear to me that there was not a single sign of hesitation for him to proceed. We all know that brothers' organs normally match and minimize organ rejection in a transplant.
The day after a successful operation, I visited RENNE at a Davao hospital with TVIRD President CLIFF JAMES (who flew from Manila) and it was re-assuring that both brothers were doing fine.
I decided to mention Renne's story on the occasion of the feast of SAINT JOSEMARIA ESCRIVA, the founder of OPUS DEI. I attended a concelebrated mass presided over by Davao Archbishop Romulo Valles at the Sacred Heart Parish Church in marking the feast of the Spanish priest who founded in 1928 OPUS DEI, now a world-wide organization that does work simply in the way 'OPUS DEI" literally means: WORK OF GOD. Its members, both religious and lay, "sanctify" themselves through their ordinary and daily work in their workplaces. June 26 is actually the feast day.
I had been reading Msgr. Escriva's book entitled "THE WAY — FURROW THE FORGE" given to me by a friend, a Dabawenyo BOYET QUINTO. Very inspiring!
Indeed, even laymen who are non-religious, by doing their day to day activities or acts in the service of God or fellowman is a work of God.
An ordinary worker or a high executive, in the farm or in hi-tech plush offices, in the barangays or in the cities, can sanctify themselves with their own acts of selflessness, charity, sacrifice — just simply doing good. Period!.
There are many other such stories that may not be known to others. Like treating one's househelp or family driver like family. Or adopting an employee's child to school. Or giving extra beyond earned wages or salaries. A million and one similar acts or works of God.
It need not be to the extent which RENNE did to brother NANDY. Remember Christ's words:: "What you do unto others, you do unto me."