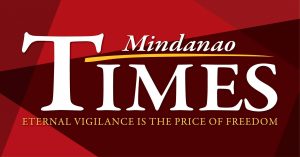 MAYOR Sara Duterte has requested the Philippine Drug Enforcement Agency and the Davao City Police Office (DCPO) to help the local government weed out the bad eggs among its personnel.
"Girequest namo sa ilaha nga kung pwede palapdan nila ang imbestigasyon sa occurrence sa people involved sa drugs diri sa city government of Davao (We requested them to widen their investigation into the occurrence of people involved in drugs, especially here in the city government of Davao)," Mayor Sara said over Davao City Disaster Radio last Friday.
The announcement came after Al Sherwin Ng, 40, a driver assigned to the City Treasurer's Office, was nabbed in a buy-bust operation conducted by the Talomo Police Station Drug Enforcement Unit on Dec. 16.
A shabu wrapped in a candy wrapper was recovered from the suspect.
The mayor was disappointed upon learning of the incident, saying, "there are still government employees who choose to get involved in illegal activities despite the efforts of the city to give them benefits."
"In a way, maka-sad because dunay ingon ana nga mga city government employees nga bisan pa man og unsa ang pagpaningkamot sa city government para sa ilahang mga benepisyo, sa ilahang mga sweldo and making them happy employees, duna gihapon mga tao who will go to the other side—didtoa sa side sa krimen (In a way, it saddens me because there are city government employees like that who, despite all our efforts for their benefits, their salaries and making them happy employees, they will still go to the other side—to the side of crime)," she added.
She said the Davao City Anti-Drug Abuse Council continues to perform its mandate to ensure drug-free workplaces for city government offices, which include random drug testing of all city personnel.
Just recently, she revealed that random drug testing was conducted on barangay auxiliaries in some villages. Although they are not employed by the city, the program ensures that the allowance they collect from taxpayer's money will not go to illegal activities.
"Dunay lima ka nakita nga nag-positive, although wala pa ang ilahang confirmatory test (there were five who tested positive although their confirmatory test is not out yet)," she said.
Ordinance No. 0506-13 mandates all establishments to craft a drug-free workplace policy and the program was passed according to the provisions of Republic Act 9165, otherwise known as the Comprehensive Dangerous Drugs Act of 2002 and the Department of Labor and Employment Department Order No. 53-03, Series of 2003.
In 2018, Mayor Sara issued Executive Order No. 32 establishing the implementing rules and regulations of the said ordinance.