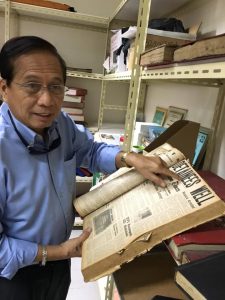 I HAVE several 'aliases' too
THE use of several "aliases" or pseudonyms is a common practice to many. Consider this.
Since I was born at midnight of December 24, my baptismal records call me "JESUS." I was named after my "tokayo," the Savior.
If you check the National Statistics Office ( NSO), they officially call me "JESUS VIRGILIO." That is my officially registered name.
If you want to sound religious, you may call me Jeeeeesus (as in Jesus Christ).
WhiIe I was a Davao City congressman, my congressional staff and volunteers in my congressional radio base–"D1 control"–called me "ALPHA".
My fraternity brothers and sorority sisters in the Fraternal Order of St. Thomas More (TAU MU FRATERNITY) at the Ateneo law school also call me BROD.
I am a member of the Guardians Brotherhood, which was started many years ago by military men with that telltale tattoo at the back of a member's hand "MG" (meaning "Magic Group" for those in the military) and "RMG" ( meaning "Regional Magic Group" for civilian members). I am called " BRO ALPHA."
My buddies at the radio group called REACT ( Regional Emergency Action group ) then headed by Col. Douglas "Bomb" Rosete called me "CAPSULEMAN" as my regular column in the Mindanao Times then was entitled TIMES CAPSULE.
My children call me "PA" or "POPS" and my grandkids call me "PAPALO."
My wife Beth calls me "DAD" but when angry, she calls me "JESUS!"
Others who value me or are surprised, they can call me "Jesus ko!"
Of course, friends (and enemies) can call me "JESS".
And pretty, sexy ladies can call me……. "ANYTIME." (Ooooops!)
I remember once telling that joke to President Gloria Arroyo one day in Malacanang when I was a member of her Cabinet. The following day, when I met her again, she greeted me with "Hello ANYTIME"!
My quick reply: "Pretty at sexy ka pala Ma'am"?
We had a good laugh together!
That's why having "aliases" is not only to hide one's identity or display familiarity and closeness. It's also one way to have fun!