Make gifting meaningful this holiday season and shop products that are good for the planet and people! Skip the holiday rush and order directly from local brands that support communities and bring joy to your loved ones.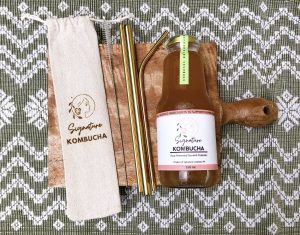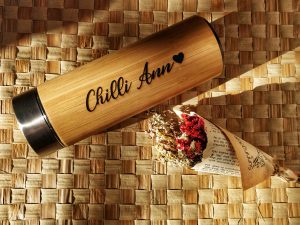 Get personal
With Davao Ecogifts, you can choose from a range of functional gift items from indigenous materials that are sustainable, can be personalized and are affordable. The brand practices lean and sustainable business processes–from recycled packaging, sustainable delivery methods—so you know it is good inside and out! Get a bamboo flask for as low as P850 or an eight-piece bamboo cutlery for only P300. No minimum order required. Shop via Facebook.com/ecogiftdavao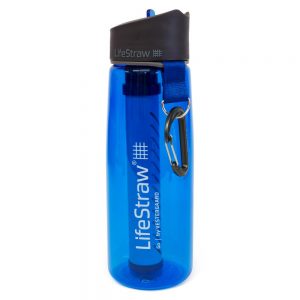 Drink up
Fill your holiday glasses with Signature Kombucha, a product of Signature Creations PH, a company that's passionate about sustainability and supporting farmers; and access to plant-based food. The drink is a naturally carbonated fermented tea drink full of probiotics and is a healthy alternative to soda! Get a drink (and the brand's metal straw set for a cause) in Facebook.com/signaturekombucha.ph or in Instagram @signaturekombucha.ph
Gift better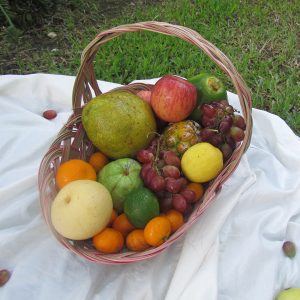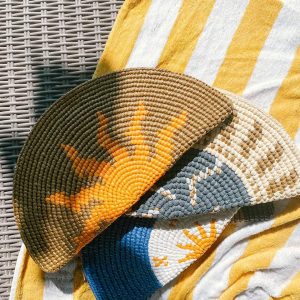 What if you could shop and help support bigger causes like efforts and collaborations to help children and families get access to safe drinking w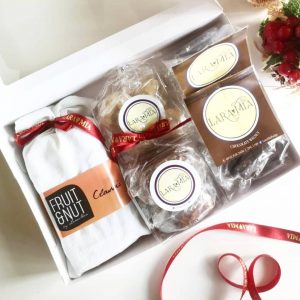 ater? You could with GiftingLife! Shop gadgets from its Safe Water Solutions—like the LifeStraw Go bottle—and be a part of a bigger project on water, health and sanitation. Learn more in Facebook.com/GiftingLifeSolutions.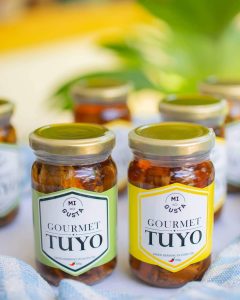 Sure produce
Skip the long lines in the palengke or in the supermarket and shop for fruits and vegetables in Sureplus, a social enterprise that resells, repurposes, and reallocates surplus food to minimize food wastage and hunger. Make your holiday table festive with the Sureplus All-In-One Fruit Basket! It's complete with 12 different kinds of round fruits that will not only make you lucky for the coming year but will also help livelihood of partner farmers. Order via www.sureplus.net or Facebook.com/sureplusfoods
Breakfast must have
Make breakfast—or any meal, really—more exciting with gourmet tuyo from Mi Gusta, a brand of gourmet food products managed and made with love and care by empowered Dabawenyas. The gourmet tuyo comes in two variants–in olive oil and in corn oil. It is a perfect present for that foodie in your family who loves having a signature Pinoy breakfast. Best served with sinangag and a sunny side up! Order through Facebook.com/MiGustaPH or on Instagram.com/MiGustaPH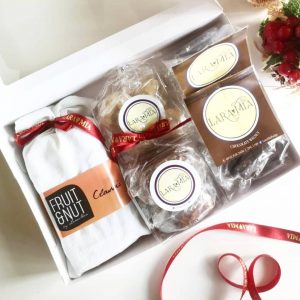 Make it fashion
Accessorize with En Route Handcrafted, a homegrown brand that empowers women in communities by encouraging them to become artisan- entrepreneurs through sustainable fashion. En Route offers stylish products: earrings, clutches, and even DIY accessory kits! Shop in enroutehandcrafted.com or email hello@enroutehandcrafted.com.
Holiday mood food
Get your holiday treats in Lara Mia Café & Bistro and surprise your loved ones (or yourself!) with their Christmas Box filled with signature treats like the Chocolate Walnut Fudge, Maamoul Cookies, and fruit cakes. In the background, the brand also contributes efforts in rehabilitation programs for people with disability. Lara Mia is also offering Zoomboxes for your online yet intimate parties! Start the feast and order via Facebook.com/LaraMiaFudge or call +63932 828 3636.