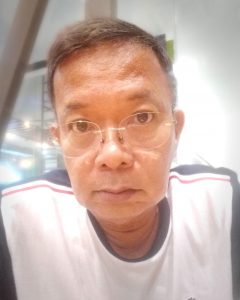 PEOPLE who use bicycles and motorcycles for work on a daily basis see everything from a totally different perspective.
They know fully well that it is doubly important for them to protect their mouths, noses, and eyes from vehicle exhausts, dust and other unidentified flying objects that they encounter while on the road.
Parallel to this, people who open their mouths too much and who might have, once or twice, experienced a bug suddenly rammed up their throats, are also familiar with this feeling.
This is why I totally relate with two younger brothers when in the past, they donned protection as they rode their motorcycles to work.
Even up to this day among disciplined riders, there is a sense of ritual as one prepares to mount that metal steed on the way to battling windmills for our legal tender, or just an ordinary day to work.
A helmet, pair of goggles, jacket, and a scarf in place of (or if not) a face mask. All these, symbolically replacing the items of the warrior, if you will.
This is the reason why, for one, the sight of someone on a battered excuse for a bike, while lugging heavy stuff in the back and unprotected with even a handkerchief, is always sad to see.
I  know, this is cheaply Ad Misericordiam, but what is sadder still, some people on bikes should know better when they offer their few cents' worth of whining, especially on the subject of the government's directive to wear a face mask and face-shield when going outdoors.
They only know too well that bikers have been at it for a long time, yet suddenly, complaints of difficulty in breathing and vision, as in fogging of helmets and the like have become quite common.
A bike club in Manila has even shown online pics of face shields totally fogged up while being worn by Sunday bike enthusiasts. The truth is, everything is up to you.
Do as you wish. However, this is not a laughable matter, one that is subject to the cute criticism and smart-aleck jabs that we now love to use as knives in our day-to-day. Our friendly neighborhood Shopee delivery man says it best, "it is very scary out there, sir."
In the same breath, a dear friend, who since the 80s had been riding his racer bikes on the way to PETA activities (the theater kind), had always employed creative ways to protect himself on the road.
One time, he proudly showed us one of those carved out wooden goggles, used by Badjao divers, saying that they definitely work better than the expensive kind, as he weaves through Metro Manila's traffic jams.
All in all, even with the threat of a fine or not, the choice of protection will always be up to us. It is just ironic that those who can afford it, complain the loudest, while those with a few bucks to spare suffer in silence and bear the brunt of having to risk their health.
Just recently, the grandfather of an acquaintance passed away because of COVID. They said that the old man had never gone out of the house ever, but might have been exposed when on one occasion, someone from outside planted a kiss on his forehead.
No rider-relation in this story. All it says is: It is not about you, people. Who really cares if you are totally invincible to the COVID virus? The truth remains that somewhere along the line, there is a vulnerable and weaker link in your chain. Are you willing, with all your smarts, and knowledge to risk everything just so your face shield remains fog-free?