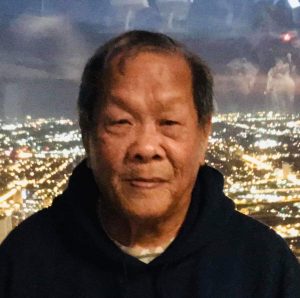 I AM recommending to my readers to read the column My Turn of fellow writer, retired Executive Judge Jesus V. Quitain, in the TIMES' issue of Dec. 17 because it reminds me of the old saying: "Magagawang talikuran ng anak ang kanyang ina, ngunit hindi ng ina ang kanyang mga anak."
Jess wrote in his column the homily of Fr. Nestor D., Diocesan Clergy of Davao, while celebrating mass at San Pablo Parish in the late 1990s.
The story is about "a small, thin grandmother with white long hair named Clotilde whom he befriended and fondly called Nanay Tilde," a tuberculosis patient of a public hospital ward that the priest visited then.
Widowed with three young children, she never married again thinking that a new husband might maltreat them, Nanay Tilde raised them alone until they became professionals and have their own families.
But when she got TB and ulcer and was confined at the hospital, she never saw her children again despite their assurances on many occasions that they would visit her.
She died in the hospital not knowing that even in her death, her children never showed up or attended her burial.
"Enero 10 sayo nga kabuntagon gilubong si Nanay Tilde. Gawas kay Fr. Nestor, walay nilingi, walay naluoy. Kini ang gugma sa usa ka inahan."
Again, magagawang talikuran ng anak ang ina, ngunit hindi ng ina ang kanyang mga anak.
The Nanay Tilde story is not new as we all know that this also happened many times and is still happening today to many families whose children abandoned and denied their elders when they get old and sickly. But the mother's love for her children remains unchallenged.
I don't know. Siguro meron ina na tinalikuran ang tungkulin bilang ilaw ng tahanan. But it maybe happened for some reasons.
May your soul and the souls of other mothers who passed and suffered the same fate as Nanay Tilde. Rest in peace!
-o0o-
Many are not celebrating Christmas. No Christmas trees in the living rooms and traditional sumptuous food for noche buena and media noche on the table. Blame all these to COVID-19, the same reason I heard from those I met.
Admittedly, I'm also afraid of this pandemic. And who is not? But why sacrifice a traditional practice by the Christian world since time immemorial?
Why let the pandemic totally control your lives and practices when this deadly disease is not God's will but caused by people's greed for wealth and power?
Follow the safety protocols of the medical experts to avoid being infected. But for your own good and enjoyment, don't let the traditional beer and lechon on the table vanish in thin air!
-o0o-
Ever since I learned from my parents (May their souls rest in peace) that I was baptized in a Catholic church, I might have completed the nine-day pre-dawn masses or Simbang Gabi a dozen times (if my calculation is perfectly correct). If the number is more than a dozen, it may be because I was with my barkadas or escorting someone I wanted to be my partner in life.
Yes, I am a Catholic but seldom go to church to listen to a priest because I only believe in HIM. And since HE is everywhere, I need not go to church to pray but stay at home because HE is always there by my side in my house.
So, after marrying Virgie (May her soul also rest in peace), I stopped attending dawn masses because I also have an altar in my room and a replica of the Black Nazarene in my car.
Believe you me, last Tuesday of the first day of the nine-day Simbang Gabi, I found myself again within the vicinity of a chapel outside of our subdivision listening to the sermon of the priest holding a pre-dawn mass, despite the threat of COVID-19. But I remained seated inside my car just to observe physical distancing to avoid face-to-face contact with others. I content myself by listening to the voice of the priest, although I could not understand some of the words because of the distance.
The truth of the matter was that I was at that pre-dawn mass because I was longing for my favorite kakanin, Puto Bumbong and Bibingka. (I remember what Melinda Petalcorin of UMBN once texted me: "Sir, idol kita kasi nagpakatotoo ka lang.") However, I failed to find a single vendor who sold these native delicacies.
So, I tried my luck again on the second-day of the nine-day pre-dawn mass on the same chapel, also from where I was seated inside the car, still no smell of puto bumbong. Nonetheless, I again finished the 45-minute mass, cursing COVID-19 to high heavens. Maligayang Pasko!