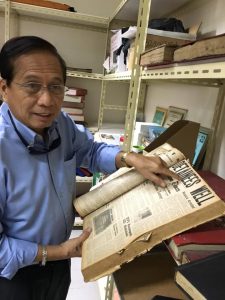 HYBRID — An eminent agri-man Dr. Emil Javier once wrote about coconut hybrid seed and dwarf varieties to propel back to life our slowly vanishing (or has it vanished already?) coconut industry. That's the way to go. It's much needed now !!
FVR's VIRGIN — Up to now, even former President FIdel Ramos still pushes for virgin coconut oil (VCO) and his favorite spiel is it reboots and enhances male virility. Really Boss? So, if you are a coco "nut" so much in need of this booster, don't ask me, please. Ask "Boss" FVR. He's the expert! Or better, just simply try it yourself!
DWARF —I remember I was a member of the governing board of the Philippine Coconut Authority (PCA) sometime in 1990 during President Cory's time. The late businessman Eduardo "Danding" Cojuangco ventured into new dwarf coconut varieties then in an island off Palawan. It starts to bear fruit in two years unlike the traditional variety that takes at least five years. And it doesn't shoot up into the sky that high. It's now being grown all over the country. That's
"Boss" Danding's legacy to us all!
"AROMATIC" — I myself started propagating early on several years ago the so-called "aromatic" variety that tastes so sweet. The best BJ ever! It simply "blows the mind," as they say. ( buko juice, buko juice! Not the sexual "BJ" some may have in mind! )
A few seeds came from the PCA experimental farm in Mintal, Davao City . I still grow them now in our farm for our Seagull resort customers to enjoy. In case you visit, please do ask for the "aromatic" kind. Then you'll go nuts wanting more BJs !!
REBOUND — Now, I am hearing the good news that the Philippine Coconut Authority is refurbishing the coco industry and put it back as one of the country's major economic drivers. It's about time!
Something big though will still have to be done, in addition to re-planting:
keep copra prices attractive to farmers. Otherwise, this effort will just go pfffft!