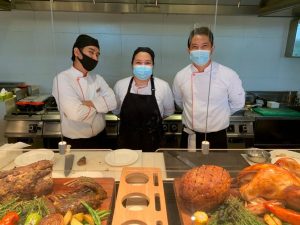 "WE treasure 2020 as a year of resiliency and care for one another.
Despite the challenges that this year has brought globally, we are thankful to end it by embracing our blessings with our dearest ones.
We continue to focus on the positivity that we want to share with all of you.  We are delighted to bring joy to you and your loved ones as the year ends.
As we celebrate the most-loved season, we aim to provide you with nforgettable experiences while ensuring your health and safety at all times," so said the personable Dusit D2 Davao Hotel Manager, Cristoph Kuch.
Dusit D2 Davao's holiday preparation salvo was its beach cleanup drive at the Dusit Thani Lubi Plantation Resort in Pindasan, Mabini, Davao de Oro, led by no less than Hotel Manager Cristoph Kuch, Assist. Manager for Marketing & Communications Lish Babela, and the vivacious Dusit Thani Cluster Director of Sales & Marketing Leilani Alkuino Merilo who flew in from Manila last November 16.
Joining the Dusit D2 Davao team in total support of keeping nature clean and reconnect once again to the beautiful environment of Davao de Oro were the friendly and business-minded Governor Jayvee Uy of Davao de Oro and the ever supportive Provincial Tourism Officer Christine Dompor.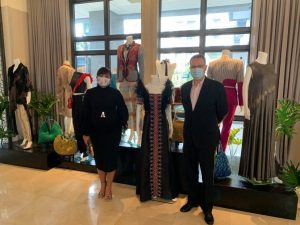 The Cleanup Drive done ala the Amazing Race at the beachfront of Lubi Plantation Resort made the participating "cleaners" see directly the impact of waste on the environment and, indeed, how much effort it is to clean and get rid of the trash. It was an amazing day of bonding between the hotel staff of Dusit D2 Davao and those of the Lubi Plantation Resort. Everyone enjoyed the delicious Pinoy cuisine prepared by Chef Jacob who hails from Laguna. Last December 11, Dusit D2 Davao invited Davao's media representatives to the launching of its Weekend Dinner Feast at the Madayaw Café, the hotel's all-day dining restaurant.
"We are very excited to bring back the well-loved Weekend Dinner Feast because Filipinos love to spend the weekend with their loved ones while eating good food together.  "In our transition to the New Normal, Madayaw Café offers individually portioned food that is individually wrapped and placed in a food spread set up as buffet is not allowed as of the meantime.
Madayaw Café adheres to strict dining protocols and sanitation practices. Dining layouts are thoughtfully designed to ensure compliance and social distance.
We offer our guests Madayaw Café's signature dishes like fern and salted egg salad and pomelo and shrimp salad; roast US beef chuck roll with special gravy; fish fillet with capers, tomato, saffron and leeks; green curry chicken; pork Stroganoff and seafood brochettas plus a selection of pasta, desserts and decadent cakes," revealed the talented and always smiling chef Alex Destriza.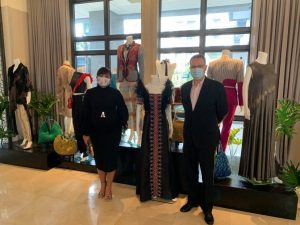 Dusit D2 Davao's Christmas Tree Lighting event to mark the beginning of the Christmas season was held last November 22 at the hotel lobby. For the first time, the annual event was streamed live on the hotel's official Facebook page.  Dusit D2 Davao's hotel manager Christoph Kuch was joined by the Director of Sales and Marketing Leilani Merilo, Director of Human Resources Margelene Famulaga, Director of Engineering Rogelio Nargatan with Assist. Man.
For Marketing & Communications Lish Babela emceeing the program. During the event, Dusit Davao's promos like its Delightful Holidays, Festive Season Delights, Madayaw Café's Holiday Feast, Benjarong's Holiday Thai Sets along with the hotel's delightful Christmas hamper offerings, On-the-Go platters, Dusit Gourmet Giveaways, among many others, were happily divulged by Lish Babela.
Then came December 16 when Dusit Thani held its presentation of its Christmas Holiday Feast at the Madayaw Café featuring chef Alex Destriza's culinary creations consisting of appetizers, salads, various Malagos cheeses by Olive Puentespina, slow roasted US beef prime ribs, honey glazed bone-in smoked ham, roasted whole turkey, prawns, pizzas, among so many other dishes including Asian cuisine particularly Thai delights. It was a gourmand's haven that Madayaw Café turned out to be.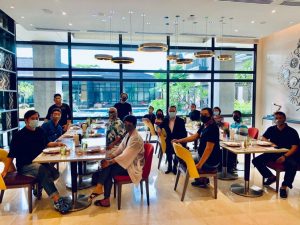 After the sumptuous lunch, Lannie Merilo, attending as the gorgeous Lady in Black, told the media representatives, "We have partnered with the Davao Fashion & Designers Council headed by its President Dodjie Batu, to celebrate this festive season with the beautifully handmade fashion wear and accessories from the Davao region in the exhibition, "Davao Istilo Lokal."
This is our sincere way of supporting and promoting local business in this time of the pandemic. We hope to bring the spirit of enthusiasm back to the local designers and further enhance their talents to create designs promoting the rich cultural heritage of the various ethnic groups of Davao," disclosed Lannie Merilo.
"This exhibition is a testimony to the distinct Filipino and Davao tradition of celebration. It has made known the fact that local is now the better normal. Thank you, Dusit Thani, for helping get the local fashion industry back. This will surely motivate our fashion and design community to be inspired; and to get our creative juices flowing again," Dodjie Batu told the guests.
Thank you, Dusit D2 Davao, for bringing joy to the Hearts of Davaoenos especially in these trying times. Wishing you all a Merry Christmas.