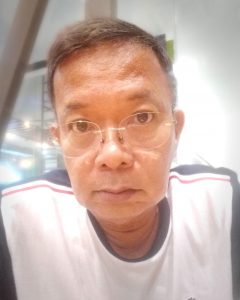 AS‌ ‌the‌ ‌alarm‌ ‌shrieked‌ ‌six,‌ ‌I‌ ‌was‌ ‌up‌ ‌and‌ ‌although‌ ‌still‌ ‌light-headed,‌ ‌walked‌ ‌to‌ ‌the‌ ‌nearby‌ ‌store‌ ‌to‌ ‌buy‌ ‌bell‌ ‌peppers‌ ‌and‌ ‌beef‌ ‌cubes‌ ‌for‌ ‌chili‌ ‌con‌ ‌carne,‌ ‌my‌ ‌matey's‌ ‌threat‌ ‌or‌ ‌treat‌ ‌of‌ ‌the‌ ‌morning.‌
‌It‌ ‌took‌ ‌me‌ ‌about‌ ‌a‌ ‌full‌ ‌five‌ ‌minutes‌ ‌before‌ ‌I‌ ‌could‌ ‌figure‌ ‌out‌ ‌why‌ ‌so‌ ‌many‌ ‌people‌ ‌had‌ ‌already‌ ‌been‌ ‌up‌ ‌and‌ ‌about,‌ ‌looking‌ ‌as‌ ‌though‌ ‌returning‌ ‌home‌ ‌from‌ ‌somewhere.‌ ‌
Then‌ ‌it‌ ‌slowly‌ ‌dawned‌ ‌on‌ ‌me‌ ‌(yup,‌ ‌my‌ ‌first‌ ‌early-morning‌ ‌pun)‌ ‌that‌ ‌finally,‌ ‌church‌ ‌services‌ ‌were‌ ‌back,‌ ‌and‌ ‌Misa‌ ‌de‌ ‌Gallo‌ ‌(or‌ ‌midnight‌ ‌mass,‌ ‌that‌ ‌early‌ ‌morning‌ ‌pre-Christmas‌ ‌mass‌ ‌service)‌ ‌had‌ ‌begun.‌ ‌
I‌ ‌had‌ ‌instantly‌ ‌thought‌ ‌in‌ ‌horror,‌ ‌and‌ ‌this‌ ‌of‌ ‌course‌ ‌admittedly‌ ‌comes‌ ‌from‌ ‌a‌ ‌dried‌ ‌(as‌ ‌in‌ ‌dried‌ ‌fruit)‌ ‌senior‌ ‌brain,‌ ‌"what‌ ‌do‌ ‌they‌ ‌think‌ ‌they're‌ ‌doing,‌ ‌covid‌ ‌is‌ ‌still‌ ‌about‌ ‌people!"‌ ‌
‌
Scaredy‌ ‌cat,‌ ‌cowardly‌ ‌dog,‌ ‌or‌ ‌your‌ ‌typical‌ ‌cartooned‌ ‌wimpy‌ ‌hooman,‌ ‌no‌ ‌matter,‌ ‌no‌ ‌amount‌ ‌of‌ ‌teasing‌ ‌can‌ ‌shake‌ ‌me‌ ‌off‌ ‌this‌ ‌scrooge-like‌ ‌reaction‌ ‌to‌ ‌this‌ ‌yule‌ ‌early‌ ‌morning‌ ‌meet-up‌ ‌er‌ ‌church‌ ‌service.‌ ‌
Then,‌ ‌if‌ ‌that‌ ‌still‌ ‌weren't‌ ‌late‌ ‌enough‌ ‌to‌ ‌add‌ ‌to‌ ‌teasing‌ ‌me,‌ ‌pour‌ ‌in‌ ‌an‌ ‌extra‌ ‌serving‌ ‌of‌ ‌"doubting‌ ‌Thomas"‌ ‌to‌ ‌your‌ ‌dog-cat‌ ‌needlings.‌ ‌ ‌
‌
An‌ ‌infamous‌ ‌American‌ ‌televangelist‌ ‌may‌ ‌have‌ ‌slandered‌ ‌the‌ ‌carpenter's‌ ‌son‌ ‌when‌ ‌he‌ ‌proclaimed‌ ‌a‌ ‌few‌ ‌months‌ ‌ago‌ ‌on‌ ‌tv‌ ‌that‌ ‌Jesus‌ ‌protects‌ ‌him‌ ‌from‌ ‌covid-19‌ ‌(aside‌ ‌from‌ ‌his‌ ‌bodyguards‌ ‌and‌ ‌a‌ ‌fleet‌ ‌of‌ ‌bulletproof‌ ‌SUVs),‌ ‌but‌ ‌needless‌ ‌to‌ ‌say,‌ ‌I‌ ‌am‌ ‌not‌ ‌about‌ ‌to‌ ‌go‌ ‌even‌ ‌fifty‌ ‌and‌ ‌agree‌ ‌with‌ ‌his‌ ‌pronouncement.‌ ‌As‌ ‌a‌ ‌matter‌ ‌of‌ ‌fact,‌ ‌you‌ ‌can‌ ‌just‌ ‌plainly‌ ‌call‌ ‌mine‌ ‌as‌ ‌a‌ ‌clear‌ ‌case‌ ‌of‌ ‌cold‌ ‌faith.‌ ‌ ‌
‌
And‌ ‌while‌ ‌we're‌ ‌at‌ ‌it,‌ ‌as‌ ‌if‌ ‌to‌ ‌pour‌ ‌cold‌ ‌water‌ ‌on‌ ‌his‌ ‌Jesus-saves‌ ‌theory,‌ ‌I‌ ‌have‌ ‌recently‌ ‌read‌ ‌online‌ ‌that,‌ ‌that‌ ‌loony's‌ ‌fellow‌ ‌tv‌ ‌pastors‌ ‌had‌ ‌then‌ ‌succumbed‌ ‌to‌ ‌the‌ ‌virus.‌ ‌Surely,‌ ‌these‌ ‌swindlers‌ ‌had‌ ‌already‌ ‌taken‌ ‌the‌ ‌opposite‌ ‌route‌ ‌from‌ ‌redneck‌ ‌nirvana.‌ ‌So‌ ‌there.‌ ‌
‌
Likewise,‌ ‌I‌ ‌am‌ ‌equally‌ ‌certain‌ ‌that‌ ‌while‌ ‌she‌ ‌might‌ ‌not‌ ‌have‌ ‌really‌ ‌intended‌ ‌to‌ ‌rib‌ ‌me,‌ ‌I‌ ‌had‌ ‌nevertheless‌ ‌detected‌ ‌a‌ ‌hint‌ ‌or‌ ‌a‌ ‌half-smile‌ ‌from‌ ‌a‌ ‌dear‌ ‌friend‌ ‌in‌ ‌Manila‌ ‌when‌ ‌she,‌ ‌in‌ ‌a‌ ‌Facebook‌ ‌video‌ ‌call,‌ ‌asked‌ ‌me‌ ‌if‌ ‌I‌ ‌WAS‌ ‌not‌ ‌allowed‌ ‌to‌ ‌go‌ ‌out‌ ‌of‌ ‌the‌ ‌house‌ ‌at‌ ‌all.‌ ‌I‌ ‌might‌ ‌have‌ ‌felt‌ ‌a‌ ‌poke‌ ‌there‌ ‌clearly,‌ ‌but‌ ‌God‌ ‌bless‌ ‌her‌ ‌heart,‌ ‌I‌ ‌still‌ ‌love‌ ‌her‌ ‌so.‌ ‌I'd‌ ‌still‌ ‌go‌ ‌back‌ ‌to‌ ‌smoking‌ ‌if‌ ‌you‌ ‌wanted‌ ‌company.‌ ‌
‌
Now,‌ ‌because‌ ‌of‌ ‌all‌ ‌the‌ ‌above,‌ ‌I‌ ‌am‌ ‌now‌ ‌forever‌ ‌doomed‌ ‌with‌ ‌this‌ ‌burning‌ ‌question‌ ‌that‌ ‌is‌ ‌slowly‌ ‌brewing‌ ‌like‌ ‌a‌ ‌storm‌ ‌in‌ ‌my‌ ‌mind,‌ ‌I‌ ‌am‌ ‌being‌ ‌overly‌ ‌cautious,‌ ‌plain-and-simple‌ ‌oldy‌ ‌fashioned‌ ‌paranoid,‌ ‌or‌ ‌worst,‌ ‌the‌ ‌perfect‌ ‌example‌ ‌of‌ ‌a‌ ‌true-blue‌ ‌sucker‌ ‌to‌ ‌what‌ ‌online‌ ‌conspiracy‌ ‌theorists‌ ‌would‌ ‌mockingly‌ ‌dub‌ ‌as‌ ‌Bill‌ ‌Gates'‌ ‌willing‌ ‌lambs‌ ‌to‌ ‌the‌ ‌slaughter?‌ ‌
‌
Since‌ ‌time‌ ‌immemorial,‌ ‌the‌ ‌saying‌ ‌that‌ ‌getting‌ ‌weak‌ ‌in‌ ‌the‌ ‌knees‌ ‌as‌ ‌one‌ ‌gets‌ ‌old‌ ‌had‌ ‌always‌ ‌been‌ ‌followed‌ ‌up‌ ‌with‌ ‌the‌ ‌loss‌ ‌of‌ ‌youth‌ ‌daring‌ ‌and‌ ‌later,‌ ‌actual‌ ‌physical‌ ‌ability.‌ ‌A‌ ‌clean‌ ‌twenty‌ ‌years‌ ‌ago,‌ ‌I‌ ‌swear‌ ‌to‌ ‌you‌ ‌that‌ ‌I‌ ‌could‌ ‌still‌ ‌last‌ ‌one‌ ‌or‌ ‌two‌ ‌sets‌ ‌of‌ ‌tennis.‌ ‌Then‌ ‌twenty‌ ‌years‌ ‌before‌ ‌that,‌ ‌I‌ ‌most‌ ‌certainly‌ ‌was‌ ‌half-energizer‌ ‌bunny‌ ‌personified.‌ ‌Sadly‌ ‌now,‌ ‌even‌ ‌my‌ ‌fingers‌ ‌go‌ ‌cramping‌ ‌at‌ ‌virtual‌ ‌tennis‌ ‌on‌ ‌my‌ ‌android.‌ ‌ ‌
‌
Despite‌ ‌all,‌ ‌the‌ ‌only‌ ‌deep‌ ‌lesson‌ ‌remains:‌ ‌count‌ ‌your‌ ‌blessings.‌ ‌List‌ ‌all‌ ‌the‌ ‌material‌ ‌things‌ ‌you‌ ‌have,‌ ‌and‌ ‌then‌ ‌compare‌ ‌these‌ ‌with‌ ‌all‌ ‌the‌ ‌intangibles‌ ‌that‌ ‌you‌ ‌also‌ ‌possess.‌ ‌Include‌ ‌friendship,‌ ‌love‌ ‌and‌ ‌whatever‌ ‌mushy‌ ‌mushy‌ ‌to‌ ‌believe‌ ‌reside‌ ‌in‌ ‌that‌ ‌thinning‌ ‌skin‌ ‌of‌ ‌yours.‌ ‌At‌ ‌the‌ ‌very‌ ‌least,‌ ‌at‌ ‌the‌ ‌end‌ ‌of‌ ‌the‌ ‌day,‌ ‌finalize‌ ‌your‌ ‌list‌ ‌with‌ ‌a‌ ‌thank-you‌ ‌for‌ ‌this‌ ‌breath‌ ‌as‌ ‌you‌ ‌lay‌ ‌down‌ ‌to‌ ‌rest.‌ ‌Start‌ ‌again‌ ‌tomorrow.‌ ‌you'll‌ ‌be‌ ‌fine.‌ ‌
‌
‌
‌ ‌