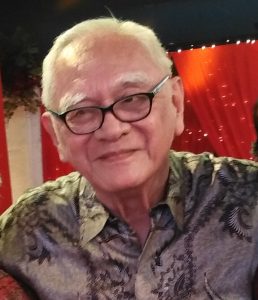 FR. NESTOR D., Diocesan Clergy of Davao, shared this during his homily while celebrating mass at San Pablo Parish in the late 1990s.
As a seminarian in Ozamis, his class would visit hospital patients especially those without relatives or "bantay". The loneliest public hospital wards are for tuberculosis patients.
Nobody goes there for fear of getting TB. He befriended a small, thin grandmother with white long hair named Clotilde whom he fondly called Nanay Tilde.
He was surprised when beginning December 16 he would see Nanay Tilde seated in a wooden chair facing the entrance door as early as 7 am up to 6 pm. So he asked. "Nanay Tilde, nganong dili ka na muhigda sa kama kay humok ang kutson, gahi ang kahoy nga silya ug magsakit ang imong lawas."
She answered, "Dre, dugay ko na wala makita ang akong tulo ka anak sukad na propesyonal kinse anyos na. Ang usa, Med Tech. Salesman sa Manila, ikaduha sa Cebu nagtrabaho ang ikatulo teacher sa Dabaw.
Nagsabot kami nga moanhi sila sa December 25 dala ang mga apo nga wala ko pa makita ug mga pagkaon, regalo, para sa ubang masakiton. Anhi baya sa December 25 kay ipaila taka." She was so anxious to see her children that even if she knew they will to come on December 25, she already started waiting for them on December 16.
On December 25, Fr. Nestor met Nay Tilde who said. "Dre, sorry wala sila moabot kay busy sila sa Christmas parties nila sa balay, eskwelahan, office pero sa Enero uno sigurado na sila". He noticed that she was sad and teary eyed. She told Fr. Nestor her life. She was widowed when the three children were very small. She did not marry again thinking that a new husband might maltreat her children so she raised hem alone.
She lived in a squatter area. At 5 a.m. she'll already get up to get two baskets, walk along the wide and long Ozamis City beach to gather seaweeds, guso, lato, fishes thrown away by some fishermen and then rush to Poblacion to sell them. Without rest, they kept selling until they found out that she got TB and ulcer from over-exhaustion, but her children became professionals.
On January 1, as he entered the ward, he again saw Nanay Tilde seated looking lonely, Nay Tilde said. "Dre maulaw man ko, wala sila gabii," New Year "nalingaw tanan, walay tulog, galuya wala nakamata karon buntag ang driver sa" truck, bus, "eroplano", "barko", tricycle "wala sila masakyan. Pero sa Enero 6," Three Kings "nia sila". On January 4, Fr. Nestor visited his Parents.
Returning on January 9, he was surprised not to see Manay Tilde on the wooden chair so he asked "asa si Nanay Tilde" ang tubag "she died on January 6. He thought may naga atiman sa haya so he visited the other patients and slowly walked to the Funeral parlos at 5p.m.
He asked "asa ang haya ni Nanay Tilde tungod kay kabus walay nakaila. Kabuang siya sa pagpangita. Usa ka embalmer ang nitubag "kinsa Dre" kadto Tibihon nga babaye puting buhok? Naa. Tungod kay pobre, giputos lang ug banig ug gibutang sa daplin nga medyo ngitngit.
Nakita ni Padre ang mga linya sa alamigas paingon sa banig. He was rattled but he managed to buy with his few pesos nipis nga plywood nga maong lungon. He was afraid the lungon kay nipis might be ripped. He was allowed by the bishop to get a small plot in the church cemetery.
That night by all flickering candle, ang lungon gabalik sa daplin. Seated alone he remembered that last time they met, Nanay Tilde said "Dre, gikapoy na ko sa pag ayo. Sultiha ang akong mga anak nga pinangga ko sila kaayo ug dili ko sila pasagdan kung maglisud sila.
Ingna Dre, nga ipadayon ko ang akong pag-ampo para sa ilaha bisan patay na ako. Enero 10 sayo nga kabuntagon gilubong si Nanay Tilde. Gawas kay Fr. Nestor, walay nilingi, walay naluoy Kini ang gugma sa usa ka inahan.