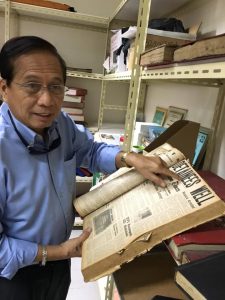 UP TO today, there appears to be still this lingering fear that the Philippines is in a "collision course" with China over disputed territories that can be an international flashpoint in spite of the fact that the Philippines won in the arbitral ruling of the United Nations over China. As we all know, China refused to recognize and honor that ruling up to now.
I am now recalling an article I wrote about 5 years ago in May, 2015. Here goes that piece:
CHINA GETTING BOLDER — In May 2015, a US spy plane making a "fly-by" over disputed territories in the "Spratlys" was "challenged" over radio by Chinese military and told to "go away".
Another commercial airplane flying overhead was similarly challenged. Earlier, Philippine vessels supplying provisions to Filipino soldiers stationed in the area were blockaded.
Filipino fishermen were harassed, shooed away and fired upon with water cannons from Chinese vessels. Massive reclamation and building construction were completed by the Chinese with China telling the world that all territories in the South China Sea, irrespective of whether they were within the "exclusive economic zones" (EEZs) of different countries, were considered Chinese territory.
No doubt, we are now on a "collision course" with China due to territorial disputes in the South China Sea. I have a few basic information that may help for a better understanding of what this is all about.
In May 2015, I sat in a forum in Manila with fifteen (15) foreign journalists who were Jefferson Fellows under the auspices of Honolulu-based East-West Center.
They were on a study tour principally to listen to some briefings and get information on our territorial dispute with China. With the Philippine Press Institute (PPI) where I served as national chairman assisting in the visit, it was a good chance for me to take a good close look at what this territorial dispute was all about. (I remember I sent my "girl Friday" Charmaine "Cha" Olea to travel with the "Jefferson Fellows" during their "on-the-spot" visit to the disputed area. )
The "claim" with giant China could be a flashpoint of a global crisis, given that other countries like our ally, the United States of America can be drawn into this due to geopolitical implications.
"NINE DASH LINE" — The conflicting claims amongst several neighboring countries over shoals, reefs or just rocks protruding from the sea during high tides had been in the "backburners" for some time now. It was there as a thorny issue but no one was really giving it special attention. Not until China unilaterally released recently a map with lines expanding its territorial borders.
It is now what is famously ( or infamously) known as "NINE DASH LINE". It draws an imaginary line with a bigger swathe, in effect proclaiming that it exercises sovereignty over a wider area in almost the whole of South China Sea by reason of history.
It simply served notice to the whole world that territories found west of the Philippines, even though near other countries all belong to China. To counter this, we started calling it the "West Philippine Sea" instead and filed a case before the United Nations declaring that the new China map is not valid.
TWO AREAS — According to University of the Philippines PROF. CHITO STA. ROMANA, a former Beijing-based Filipino journalist and an expert on the issue, there are two disputed areas: first, the "Scarborough or Panatag Shoals" in Zambales province. Second, the area down south off Palawan called the "Spratlys or Kalayaan Island Group" where the claim involves other countries like Vietnam, Malaysia, Indonesia, Brunei and Taiwan.
"SCARBOROUGH" — "Scarborough or Panatag Shoals" in Zambales province is only a rock jutting out of the sea. During low tide, some seabed will appear. This was a favorite fishing grounds of local fishermen and named "Bajo de Masinloc", being part of Masinloc municipality in Zambales Province. The shoal also served as a place for refuge from giant waves for those caught during typhoons at sea.
However, the local fisherfolk were shooed away from the area by Chinese vessels using water cannons. During the time of the US bases in the 1990s it was used as a target practice area by the American forces during war drills, being close to the former US bases in Subic and Clark.
Former Zambales Governor Hermogenes "Jun" Ebdane, a former colleague in the Arroyo cabinet, installed a hi-tech surveillance system with the help of a Canadian company to monitor Chinese intrusions to protect his fisherfolks who had been deprived of livelihood.
"SPRATLYS" — Further down south in Palawan, the Spratlys group of islands is located, with
around 50 islands or reefs or areas that appear above water only during low tide. Several Asian countries are "claimants". It was said that in 1947, Filipino Thomas Cloma, an owner of a maritime academy in Manila (thus earning the moniker "Admiral") "discovered" these uninhabited islands and named the island cluster FREEDOMLAND which later became known as "Kalayaan Islands".
A cement bust of discoverer Cloma still stands in the area. He "turned over " his rights to the Philippine government in 1974, making them part of Palawan province, being only about 100 miles away from Palawan shores and well within the internationally recognized 200-mile "exclusive economic zone" (EEZ). About 20 years later or in 1995, China started constructing fisherman's structures for Chinese fishermen. China also built what looked like a military installation.
CLAIMANTS –The Philippines' territorial claims include five (5) islets, two (2) cays (small islands) and two reefs or a total of nine (9) features or areas. China is claiming seven (7) areas while Vietnam has twenty-two (22). Malaysia, Indonesia, Brunei and Taiwan also have their own claimed islets or areas near their own borders.
The different countries' basis for their respective claims is that although these areas are beyond their 12-mile territorial limits, these territories are within their 200 -mile exclusive economic zones (EEZ) from their continental shelf, as recognized by international protocols called United Nations Convention of the Law of the Seas (UNCLOS). Mainland China is geographically far from these areas.
But with China's officially- issued 'NINE DASH LINE" map, all these territories claimed by these countries were unilaterally declared as Chinese territory which the Philippines refused to recognize.
CHINESE MISCHIEFS — In one of our nine (9) claimed islets named "Mischief Reef" in the Kalayaan Islands, near Palawan, was where China started doing some "mischiefs" in 1983 when it called it Chungian Islands and put up "fishermen's structures" in 1995. To counter China's intrusion, the Philippine Armed Forces intentionally "beached" or "parked" our old junk-bound "Sierra Madre" naval ship in the waters nearby that became the permanent floating home base of our few soldiers guarding the area. Chinese massive dredging, reclamation and construction were done in the different disputed shoals or reefs.
In "Fiery Cross", massive reclamation was underway with an airstrip built which became functional. In the so-called "Johnson" or Mabini Reef, multi-story structures were also constructed. It is in the Recto or "Reed Bank" area where oil deposits were reportedly found, reputedly bigger than our Malampaya reserves.
"Pag-asa Island" also called Thitu Island is the 2nd biggest island. Another island is called 2nd Thomas Shoal. It was reported that Mischief Reef, also known as "Panganiban" shoal, from only 1,900 square meters in size is now more than 32,000 square meters or 3.2 hectares in size and still growing due to Chinese reclamation work. It later became China's military installation.
RECOURSE — Feeling helpless and unable to stop these Chinese "mischiefs" and seeking redress, the Philippines filed in January 2013 a "Statement of Claim" before a United Nations agency but China "rejected" the claim and refused to participate in the proceedings.
According to Associate Professor JAY BATUNGBACAL of the UP Institute for Maritime Affairs and Law of the Sea, the Philippine case was pending before an "ad hoc tribunal" based in the Hague with five (5) member-nations sitting as a tribunal. With China's refusal to participate in the case, even a favorable decision in favor of the Philippines could not be enforced.
Reports had been circulating that China was really furious when the Philippines filed for arbitration with the UN. From all indications, China will not agree to a legal settlement and had been sending signals that it preferred bilateral negotiations between the Philippines and China alone, one-on-one.
PHILIPPINES WON IN ARBITRAL RULING — However, as we all know, the Philippines eventually won its case in the United Nations but China refused to recognize the same, claiming the ruling is not binding on China.
IMPLICATIONS — Aside from being a Philippine-China territorial dispute, the whole world will have to sit up and take action because this is now also developing into an "international maritime" issue where China, with its constructions and evident display of dominance, may claim control over the world's global sea lanes where about one-third (1/3) of the whole world's economic logistic system passes.
ASEAN where the Philippines is a member is "consensus"- based and is described as not a good forum, given that some of the member countries were doing quiet "bilateral" talks with China. It was only the Philippines that sought "multilateral" help by going to the United Nations.
It was opined by some experts that the Philippine move was being quietly watched by other claimant-nations as it could be a test-bed of how big allies like the US, Japan, Australia, and other counties would react.
PHILIPPINE POSITION –Former Cabinet Secretary RAFAEL "Raffy" ALUNAN during the Cory Aquino and Ramos administrations recalled that it was in 1995 when he woke up one morning to realize for the first time that the country "lost" Mischief Reef. Today it is a Chinese military installation.
As then president of the West Philippine Sea Coalition, Sec. Alunan stressed that the Philippine position must be a combination of prudence, self-reliance but forthright and to remain a strong link — not a weak link — in the "chain" of nation claimants against China.
USA AS ALLY — The United States' "Pivot of Asia" strategy that resulted to its more active presence in Asia would bring it also into a collision course with China with the US' declared pronouncement that its main interest in the South China Sea is "ensuring freedom of navigation".
However, there were those who said (like former party-list Akbayan leader WALDEN BELLO) that the US would not risk going to war with China just to uphold and protect the Philippine position.
The situation if it worsens can be volatile. The report of a US spy plane being challenged by the Chinese military during a "fly-by" over the Spratly's in 2015, was an indication of USA's concern and the direction it would take.
Those events showed that the US would not stand idly by and would challenge China when its intrusions were clearly becoming an international maritime matter.
Too early yet to tell what would actually happen next but those incidents are indeed "instructive". They can be flashpoints that can trigger an international dispute involving several countries .
So, let's all watch closely.