T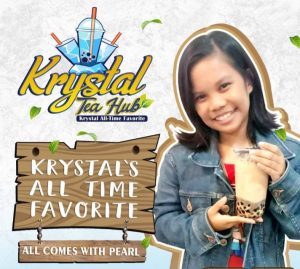 HE COVID-19 pandemic may have challenged the resolve of seasoned investors, but a 13-year old girl took it head-on and established her venture with the help of her family.
Krystal Charm A. Maranan, the young girl behind the Krystal Tea All-Time Favorite, said that one day in October, an idea of setting up a small shop for people like her who love the milk tea craze got into her mind.
"I was bored that time and I kept on thinking about something to do. So I thought about coming up with something that I could turn my attention to," Maranan said.
She thought that she could establish a niche market among the people in her neighborhood as many, including those who opted to work from home, have not gone out of their homes because of the pandemic.
"I saw the opportunity, so I broached the idea to my family," said Maranan, although she admitted at first she was hesitant at first, but the encouragement of the entire family, particularly her father Larry, provided her with the determination to embark on the project.
Her father made her and a neighbor join a milk tea preparation training which she found exciting and fulfilling. Days later she held the soft opening of her kiosk, drawing a crowd of wide-eyed teens and their parents who came to buy her products which she sold to tea cups for a price P100 just so she could start the operations.
At present, the young girl is always busy running her business that, even when bottomline is not that attractive yet, she is encouraged by its promise. "I am trying to manage my time for school and my small business," she said, adding that it has also provided her the way to ward off boredom. CQF