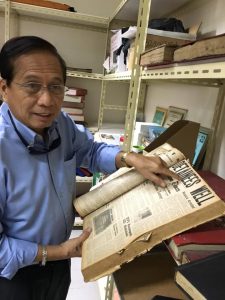 I STARTED my work to bring peace when I was still a baby. Remember my earlier story about my father Martin, a lowly bodyguard of the mayor of Guimbal, Iloilo who eloped and ran away with the mayor's eldest daughter Amparo?
The father Ramon was so angry, even always cursing Martin. However, when I was born, my parents returned home and brought me back to my grandfather Ramon to mollify him.
e took me, his eldest "apo" in his arms, cuddled me and was so happy that the couple, Martin and Amparo were immediately forgiven. That "peace offering" brought back "peace" to the family. I started my lifetime work for peace that early.
I was born midnight of December 24 when the church bells were signalling the birth of Jesus Christ, the Savior. That's why I was christened "JESUS".
I devoted almost my whole life time as an adult working for peace. In fact, I always call it a "life time work" ; a "work of a lifetime." Here are a few "lessons" I learned in my long years of work that I wish to share.
"ROOT CAUSE" — First and foremost is to know the reasons why there is unending trouble or problem that always recurs. Then one has to address or manage the "root cause" that triggers unpeace. Unless and until that is done, one cannot achieve sustainable peace.
For example in the case of muslims in the south, we all know that the recurring violence and unpeace is their long lifetime dream and aspiration for "self determination", self-rule or self governance of their own people, in their own indigenous ways, like religion, customs, traditions and way of life.
To address this was the setting up of the Autonomous Region for Muslim Mindanao or ARMM. To further enhance the system , the Bangsamoro Autonomous Region for Muslim Mindanao or BARMM was later entrenched.
"PATHS TO PEACE"— There are many ways to bring peace that we all learned from experience. They are referred to as "paths to peace". They are:
1. Peace negotiations are necessary thru the so-called "peace talks" where both sides of the "table" know the maximum or minimum each side can agree on to bridge the gap between two sides of the conflict. Fighting or conflict in the battle field today is no longer won by superior force, although it is still a factor. Peace agreements are indespensable.
2. Social healing is a must. It is not only the physical wound that must heal but more important is the "inner wound", the anger, the angst, the broken relationships that caused enmity and trouble. This takes time to heal. The physical wound on one's body may have healed early but the unseen "wound" needs more time for healing.
3. Rebuilding relationships caused by conflict must be attended to. Ethnic conflict needs reconciliation. This needs time to rebuild.
4. Restoring torn "social fabric" destroyed by fighting is part of healing. Factions arise due to fighting. Family feuds must be resolved and relationships restored.
5. Helping victims of conflict is equally important. Assistance from government or civic groups or private individuals go a long way in making them feel they "belong". Abandoning them and making them feel helpless will, all the more, cause them anguish, hatred and "feeling abandoned" by others.
6. Inculcating the culture of peace is equally a "must". It must become a way of life. It must be internalized.
7. When peace agreements are entered into, there must be clear indications that they are implemented and brought to reality. "Broken promises" always break everyone's heart and patience. Expectations in signed agreements are high. They must be fulfilled.
8. Improving the lives of people is equally as important as a peaceful environment for all. On several occasions in my work for peace, I ask people: why is there always conflict and fighting in your area? The usual answer is: we are poor here, "walang negosyo, walang kabuhayan dito" , we are a "backward" neighborhood , there are no development projects to make our lives better so people usually resort to violence, steal or kidnap someone to make money. Then I ask the business sector and others who can develop the area or sell merchandise or vendors: why are you not doing business in that area? Their usual answer: sorry sir, "delicado dyan", "magulo", and so on and so forth. So the question is: What should come first, peace or development? Remember that dilemma of "what comes first, the chicken or the egg?" If one says it's the egg first, then the other person can say the egg came from the chicken. If again one says the chicken comes first, the other person can argue that the chicken came from the egg. And so on and so forth that the issue is never settled. So the correct formula is: BOTH the chicken and the egg must come, not one after the other but BOTH AT THE SAME TIME. I call it the NEXUS of peace and development. They must come, not one after the other but BOTH AT THE SAME TIME.
9. Inclusivity is equally important. Everyone, not only the chosen or favored or the unfortunate ones must benefit from projects or favors. I now remember the World Bank's coined word "moral hazard" where not only the disadvantaged sector be taken cared of and given attention but ALL. Here's a good illustration of that situation: while those who fought government are taken cared of and attended to, those who live peacefully and not creating trouble will feel "abandoned and neglected" and are prone to say: " why are you in government taking care of those who fight you? Will we also raise in arms against you so you also give us attention?"
10. Organizing "peace tables" is one way to deal with the so-called "moral hazard". During my time as peace adviser, we organized "tables" for the youth, the indigenous peoples or tribal groups and even the general public while we have peace negotiations with the insurgents. I recall my usual public statement during our peace negotiations then with the CPP/NPA/NDF: "Your panel is yes an important "table" but it is considered a "small table" if compared with the general public which I call the "bigger table". While we negotiate with the "small" table, the insurgents, it is equally important to listen also to the general sentiment of the whole citizenry. This is necessary because legislations or laws are needed to implement peace accords and Congress is composed of legislators who listen more to their constituents or voters or the greater public. Otherwise, I bet my last centavo, they will lose during elections!
11. The general public must have "ownership" of projects and benefits otherwise they will not be sustainable. It should not be totally imposed from "upstairs" or from government alone but it must also get concurrence from the "bottom", meaning from the people themselves. I recall former President Fidel Ramos favorite "mantra" about the native "bibingka" : a good "bibingka" is best cooked with the fire above ( the government) and the fire below (the citizenry)!
12. In implementing community projects, a "peace lens" must be used to view the multifarious prisms that projects may result. I recall one visit to a remote community in Lanao where I had a dialogue with the local evacuees in an evacuation area due to continuous fighting in their area. I asked the locals in their own native dialect what were the triggers of unpeace or causes of conflict in their area. Some said due to poverty, others said ethnic or tribal problems, etc. But one person suddenly raised his hand and said: "Sir, CR! Ang comfort room, Sir!" I was surprised. Why comfort room, managed to ask. Then he explained that the common toilet they were using at the evacuation area always created trouble among them because they had to always wait in line or some did not clean up the toilet after use. A simple situation many of us failed to anticipate. So we built additional CRs to solve it pronto. We failed to use the so-called "peace lens" in anticipating that problem.
13. "Peace by piece" is a must. It's like weaving a tapestry that doesn't come overnight. It's like building a brick house that does not become a reality in a jiffy. It may take several generations to complete. But the foundation must be sturdy and strong to stand the "test of time". One brick may be broken and may fall. Then another peace worker at another time may put a new brick until it finally stands sturdy and strong.
14. And finally, "let's all stay the course". The road to peace is full of humps and bumps. It's not a well-paved road. There may be "detours" along the way. But we must keep "steady the course".
IT'S IN FACT, A WORK OF A LIFETIME. OR NOT MAYBE IN ONE'S OWN LIFETIME BUT DEFINITELY IN ANOTHER'S TIME, NONETHELESS.