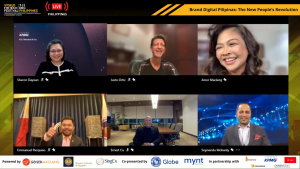 Aside from being a platform to improve the quality of life and economic standing of the Philippines, tech can also be a means to advocate for holistic change on a cross-societal level, through mass adoption and encouraging interconnectivity. 
"Now is the Filipino's chance to shine in tech, not just fintech. As this more than 7,100-island archipelago gets connected by ICT and the digital highway, not only will cities prosper and economies improve—but a new national consciousness will take root and emerge: a confidence in what the Filipino can do, individually and collectively. It is a movement that we call Brand Digital Pilipinas," said WFF-Philippines Convener Amor Maclang. 
The thrust of Brand Pilipinas is to unlock more digital avenues for the betterment of Filipinos by partnering with corporations and government agencies to influence a digital transformation. Some leaders in tech are already pivoting their services to fast-track digitalization–a necessity underscored by the events of 2020.
Globe CEO Ernest Cu shared that GCash usage has been at an all time high, with its 96 million customers even hitting 1T PHP at the beginning of December 2020 following a spike in cashless transactions. "It has grown from an app into a platform necessary for your daily tasks," Cu explained. "GCash can unlock more digital avenues to make Pinoy's lives better. In 2021, opportunities await for the Philippines to become the innovation hub of Asia."
Senator Manny Pacquiao announced Pac Technologies' newest launch for PacPay, a digital payment platform meant for global influencers, brands, and fans by early 2021, developed in collaboration with Remsea of Singapore. He urged more stakeholders to adopt a macro stance on digital transformation, "The true measure of success for technology is if you can attract as many of the right people using it. Now when I say right people, I mean that the people whom the technology is meant for, are using it to improve their lives. We call this mass adoption in the industry, and if the Philippines can be a country that leads mass adoption, we will definitely fulfil our vision of becoming a very competitive tech hub in the world."
As Dr. Justo "Tito" Ortiz, Unionbank Chairman, said, "70% of Filiipinos are unbanked, digital transactions are 10%, and that is a great opportunity in trying to lift up and bring people into a financially inclusive community which is not just about making profit but about living a higher purpose. Digital transformation makes that possible." 
But while the impressive adaptability of the Philippines has allowed it to adopt tech rollouts originally planned to cover years in just a matter of months, the next goal is to maintain the momentum.  "The fintech ecosystem in the Philippines is unique. The Philippines has a highly energetic population who aspires to have a better life, a tech-savvy, kind people who have a desire to come together to build a community of success," acknowledged Sopnendu Mohanty, Chief Fintech Officer of the Monetary Authority of Singapore (MAS), WFF's organizer.
"What will make this sustainable? Different players in this ecosystem working together with government agencies, corporations, and SMEs embarking on their respective journeys by making strategic investments," answered KPMG Philippines Chairman and CEO Sharon Dayoan. "If we see digital transformation happening on the government level, we can get the biggest industries to tech up and work towards Brand Digital Pilipinas."