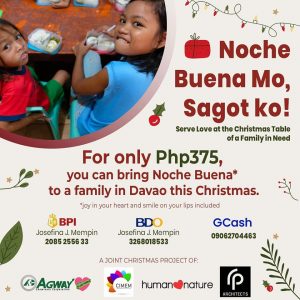 IT WAS  last mid-October when I got this message from the devoted member of Gawad Kalinga (GK), Arch't. Sylvia Puyod-Rieta, which read, "Rene (Rieta) asked me if you could feature the 'Be a Hunger Warrior Campaign' of GK. Last October 10, they targeted to feed 10,000 kids who are experiencing hunger due to the Covid pandemic. They got an overwhelming response from the different groups all over the Philippines. GK was able to feed more than 70,000 kids that day.
This Hunger Campaign drive aims to feed one million children by Christmas time…If you can kindly feature this GK Campaign to create more awareness, it would be a great help to feed the hungry kids."
I promised the good architect that I would write about it but then forgot all about it as the Mindanao Times had an imposed quarantine lockdown about that time. It's better late than never, I consoled myself.
That fateful day of October 10 was truly a testament to the giving spirit of the Filipino people especially in this time of vicissitude. It is for this reason that GK is presently appealing for help from one million Hunger Warriors to feed at least 10 children in time for Christmas.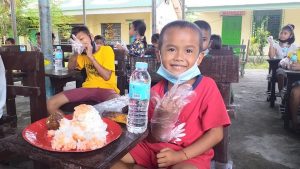 GK has been operating Kusina ng Kalinga (KnK) since 2014 as a strategic response to the problem of hunger and malnutrition among Filipino children. "October 10, 2020, was a milestone for the organization because it was the first time that GK initiated a simultaneous nationwide feeding program. GK has been known for its annual house building activities held nationwide through its Bayani Challenge movement.
Volunteers from Luzon to Mindanao gather together at specified sites to build houses over the course of a week. But this present Covid pandemic has highlighted another social issue hunger.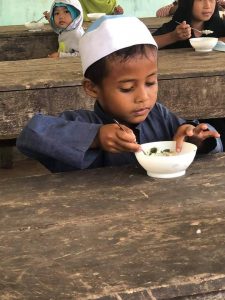 The latest SWS survey reports that hunger is at an all-time high. This necessitated in the urgent focus of GK presently to provide meals to people in areas where they are most needed," revealed Engineer Rene Rieta, a devoted and hardworking member of GK.
"Hunger is most cruel to the young because sustained hunger causes malnutrition and stunted growth. The carry-over effect may appear until adulthood. If we want to make sure that our children and our future have a fighting chance, then we must act now," said GK Exec. Director Dan Bercasio.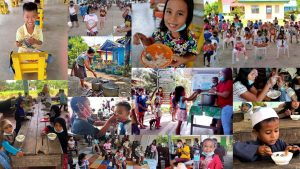 When the Covid pandemic hit, KnK reinvented its operations from school feeding to community feeding programs. Since July, it has reached 6,000 kids in 96 communities.
As hunger was spreading fast, the idea of a simultaneous nationwide feeding project was born with the hope of initiating a ripple effect.
"The initial goal for the nationwide feeding project was to feed 10,000 children in just one day, but we ended with a number that was almost tenfold! Similar to the gospel story where Jesus fed the five thousand hungry followers from five loaves and two fishes, we have witnessed a similar miracle where the food reached more people," recounts the Program Head of KnK Mark Cruz.
That day ended happily with 75,000 hungry children coming from 630 communities being fed by countless generous individuals, corporations and organizations.
Christmas is just around the corner and the Covid pandemic has indeed dampened what otherwise would be a joyous season. Gawad Kalinga wants to ignite the spirit of hope by reminding everyone that the true meaning of this season is making Christ come alive in each and every heart.
The Gawad Kalinga campaign wants to inspire those who have more in life to reach out to those who have less so we all have enough of just what we really need. The true miracle will happen when we offer ourselves wholeheartedly to one another just as Jesus did for us.