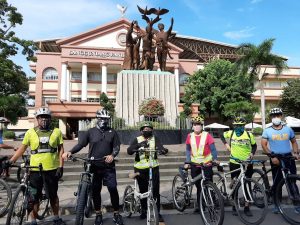 With private establishments recently rolling out bicycle-friendly facilities that empower cyclists in their daily commute, the dream to make Davao a bike-friendly city is on the horizon.
This kind of support on inclusive infrastructure in the city celebrates the bicycle as a symbol of sustainable transportation–and the city's growing number of cyclists and advocates welcome this development.
"Establishments with bike parking slots make me feel more secured as I ride and do my errands around the city," said bicycle blogger/advocate Karim Elijah. "Access to bike repair stations and parking racks gives us a sense of security and less worry during our commutes."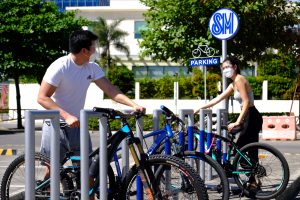 Leaders in the city who are also working to improve the Bicycle Ordinance of Davao and to implement a more bike-friendly road program also embraced the visible progress.
"I am very pleased to see that safe cycling is a community effort in Davao City and I hope that this continues to grow," said Councilor Mabel Sunga Acosta. "I have seen how everyone is working together to create a safe and inviting environment for all."
Councilor Acosta noted the team effort that is put into making Davao's bike-friendly communities.
"Establishments that provide safe bike parking and repair stations are very helpful especially for cyclists who experience emergencies on the road, like flat tires and broken gears. Bicycles also need constant care and maintenance and we are very lucky to have establishments who provide these services to the public. These encourage Davaoenos to use their bicycles more!" she said.
SM Supermalls in Davao has recently strengthened its support by adding more parking facilities and reliable maintenance tools.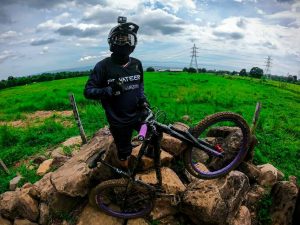 This effort is in line with the brand's vision to promote a culture of cycling in cities where SM operates.
"By transforming our malls into bike-friendly establishments, we hope to support inclusive and safe mobility, and promote a culture of cycling, "said Engr. Jonathan Nick Santos, SM Supermalls Regional Operations Manager. "This is a part of a plan to make communities where SM malls are located, more inclusive, livable, and sustainable."
Bike racks and repair stations are accessible to all. "We have designed our bike facilities to be enjoyed by all members of the community across all ages and biking abilities, whether it be for utilitarian or recreational purposes," he said. "SM hopes that this will encourage more people to take up biking as a healthy and environment-friendly mode of transportation.