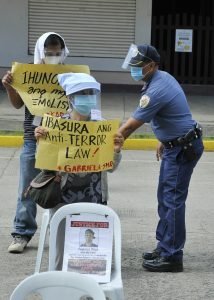 A FORMER teacher and leftist was allegedly killed in an alleged shootout with authorities while serving the arrest warrant at 1:15 a.m. yesterday in Hermenias Resort, Barangay San Agustin Sur, Tandag City, Surigao del Sur.
The military identified him as Alvin Luque alias Joaquin Jacinto, the Execom Komisyon Mindanao spokesperson. He used to be a student leader in Ateneo de Davao University before teaching at the Assumption School of Davao and also led the Bagong Alyansang Makabayan before joining the New People's Army.
According to the report, officers from Regional Intelligence Unit of Police Regional XIII, Surigao del Sur Police Provincial Office, Tandag City Police Station, 401st Infantry Brigade, 3rd Special Forces Battalion, 36th Infantry Battalion, 41st Military Intelligence Company, and intelligence units were attempting to serve the warrant on the suspects.
However, Luque and his companion reportedly opened fire on the law enforcers, prompting them to retaliate. He and his unidentified companion were killed as a result.
Maj. Rodulfo Cordero Jr., the 4th Infantry Division public affairs chief, said Luque was facing a slew of cases, including CC Nr 4611 for Kidnapping and Serious Illegal Detention issued by Judge Hector B Salise of Bayugan City RTC Branch 7; CC Nr 10677 for Attempted Murder issued by Judge Kimal Salacop of RTC Br 6, Prosperidad, Agusan Del Sur; CC Nrs 161 to 163 for violation of RA 10364 issued by Judge Tangonan of RTC Br 34, Cabadbaran City, Agusan Del Norte; CC Nr 6527 and CC Nr 6525 both for Kidnapping and Serious Illegal Detention issued by Judge Fudalan of RTC Br 7, Bayugan City.
The law enforcers also recovered a Remington 1911 pistol loaded with .45 caliber ammunition, fragmentation grenade; 500 rounds of 7.62 ammunition for AK-47, a blasting cap, IED firing mechanism, 15-meter electrical wire, NPA flags, and subversive documents.
Luque was mistakenly reported to have been among those who died in a series of clashes with soldiers in Andap Valley in Surigao del Sur from May 14-19, 2020.
Capt. Al Anthony Pueblas, the former Division Public Affairs Office chief of the 4th Infantry Division, told TIMES that two of the top leaders they believed were at the encounter sites were Luque, Myrna Sularte alias Maria Malaya, the secretary of North Eastern Mindanao Regional Committee (NEMRC).
"They were believed to be killed because of the two laptops recovered that were owned by Ma. Malaya and Alvin," he said.
The spokesperson said the two bodyguards of Sularte were present during one of the encounters. They were identified as Alfie Masinatao, alias Kumander Momoy, the vice commanding officer of the Regional Headquarters, NEMRC, and Lorna Pamutongan Gomez, alias Ka Momay, the medical staff of RHQ, NEMRC.
In July of 2002, Luque, along with the late Bayan Muna Rep. Joel Virador, and 13 others were accused of extorting money from businesses and the torching of a Rural Transit bus, a government office, and a farm for failing to pay revolutionary taxes.
Later that year, a Davao City prosecutor found probable cause against Luque for the rebellion charge to proceed. In his defense, Luque said that he was teaching at the Assumption College and also working at the Nonoy Librado Development Foundation and could not have been with the NPA at that time.
In 2009, Luque went underground and joined the NPA.
"I have chosen to seek refuge under the revolutionary movement, particularly with the Communist Party of the Philippines, New People's Army and the National Democratic Front," Luque said in a statement emailed to the press.