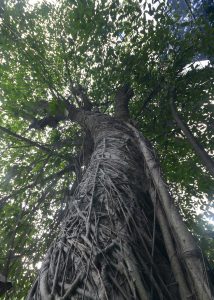 TREES are losing the battle against the surge of urban development, and for heritage trees, the impact takes on a more devastating repercussion.
Unless a local ordinance to protect and preserve the remaining heritage trees is passed, the city will lose forever one of its natural treasures. A study conducted by the Interfacing Development Interventions for Sustainability (IDIS) on heritage trees showed the urgency of protecting the trees, whether it is classified as native, endemic, exotic or introduced (not endemic).
The pandemic notwithstanding, the environmental organization conducted the project "Mapping & Profiling Urban Heritage Trees in Davao City through Citizen Science" to draft a proposal for legislative action, among others.
Mayor Sara Duterte, in a video message yesterday at the presentation of this study, said she supports the research conducted by IDIS and will look into the proposals.
Presented by Lemuel Manalo, IDIS Environmental Research Specialist, of the 288 submissions and 260 geo-tagged trees, 29% are located along the pedestrian sidewalk and along roads while 23% are also within school campus spaces. Selected sites for the tree species map are Ateneo de Davao University's Matina and Roxas Avenue campuses, Mintal National High School, Davao City Hall and San Pedro Cathedral.
Commonly identified trees are Acacia (25%), Narra (13%), Mango (7%) and the rest were Banaba, Bitaog, Pagatpat, among others.
The ecological distribution is 67% Exotic/Non-Native/ Introduced, 33% native and endemic to the country and bioregion, with 4% considered endangered status.
Last October, Davao City's First District Rep. Paulo Duterte filed House Bill No. 7804 or the Heritage Tree Act of 2020 that if passed, would provide sustainable management and protection of heritage trees, including the country's forests.
Heritage trees as defined in this bill "refers to any healthy native or endemic, exotic, rare, threatened and endangered tree with a minimum girth of five-meter (measure at one-half meter above ground) with consideration to the scientific, rarity, historical, cultural, social, educational, and aesthetic significance of the tree."
Alarming and worrisome
On December 1, Committee on Environment chair Councilor Diosdado Mahipus Jr., urged the council to enact an ordinance that will regulate, if not prohibit, the cutting of heritage trees.
This came after the protest of environment groups on the project of the Department of Public Works and Highways (DPWH) and Davao City District Engineer's Office to the road widening plan that will level eight Narra trees located at the sidewalk of Ateneo de Davao University (AdDU) Grade school/High school Matina campus.
Councilor Mahipus, in his privilege speech, said that "road width is not the only factor causing traffic congestions. It is already a fact that the volume of motor vehicles being put out and allowed on our streets is also a factor."
On August 6, 2019, Councilor Pilar Braga raised the urgency to act on the massive tree cutting along riverbanks near Ma-a during the council session. In her privilege speech, she said that the situation is "very alarming and worrisome."
She argued that commercial projects seem to be ignoring the country's environmental laws and that it is disheartening to see these are pursued seemingly without consideration of environmental impact.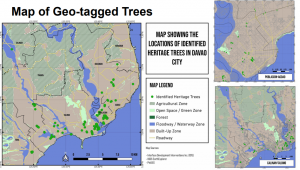 Findings
For legislative action, among the proposals are: 1) Pass a local ordinance protecting and preserving the heritage and other existing trees in Davao City urban centers from removal, cutting, damaging and other interventions that are detrimental to the health of the trees.
2) Create a local policy and decision-making body or board that will issue resolution or assess infrastructure plans that will affect existing trees, as well as coordinate with other government agencies.
3) Develop and implement technical guidelines and measures on proper pruning, trimming and maintenance of identified trees
4) Provide a section/provision for penalties to those who will violate the mandate of the ordinance
5) Develop a city-led comprehensive program, develop criteria for candidate trees, accept the nomination from citizens, and donations from private partners for tree preservation and maintenance
6) Provide incentives for building or development applications with protected trees integrated in planning and design.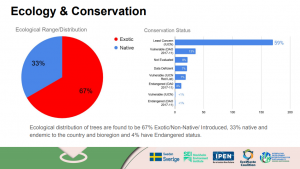 This will involve the City Mayor's Office, City Administrator's Office, Local Engineering, Planning, Environmental Management, Tourism, Public Safety, Barangay Offices in coordination with DPWH, DENR, DLPC, experts and with public participation.
The methodology of the study used citizen science which is described by the paper as "public participation in scientific research," participatory monitoring, and participatory action research whose outcomes are often advancements in scientific research by improving the scientific communities capacity, as well as an increasing the public's understanding of science.
With the city government showing interest in the protection of the remaining trees, this study could enhance the crafting of policy and guidelines to prevent the annihilation of this precious resource.