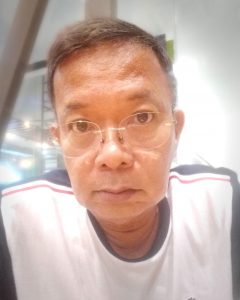 WHENEVER I am deep in concentration on any task at hand, I always have a funny sloth (of Ice Age) look, my partner says, and we always have a good laugh about it. I do not mind really, as it's no big deal. If my fellow musicians, particularly guitarists, always have their unique "guitar-face" when they take the lead bits, then the sloth-face I have might qualify as the same.
Even as a kid, I've always had this spaced-out look, sometimes with a little tongue out to the side, whenever I played with my blue and gray toy soldiers while lying on the floor at our ancestral home along Ponciano Street or doodled on paper.
Take it from this daydream believer, they really take you out to a galaxy far far away, although I would seriously doubt if the kids today still know any of that stuff. With devices left and right, a street bet might be a sure thing.
Once, while we were lounging in the sala of our mothership residence long ago before COVID, an apo of mine complained to me. "I'm bored," he moaned. Yup, if I were to put that into music, that might as well be the soundtrack of their generation.
Well, what do you know, I was back to daydreaming away again for a while today. I was checking some cabinets in the backroom when I discovered a bag of old watches that had seen better times (pun intended). What a great relief, I thought. The wristwatch my son was presently using had a busted strap, and maybe I could re-use some of the older ones and try to see if I could replace it.
So, I brought the bag to the table right after brekkie and right away began checking each one. I reckoned the whole bunch must have covered a good ten years; a collection of gifted timepieces from my matey's travels that now awaited a traveling street guy, who was willing to barter the old watches for plastic pails and pans.
As with all old things (myself included), each old watch had a background tale to tell. Why? Because it watches. Joke.
This particular one, for instance, had an interesting tidbit. I must have used it for more than 3 years and rarely took it off. I've gone snorkeling with it, and even played tennis, sweated and showered with it, with no problem. When I finally brought it to the repairman one day for what I thought was a routine change of battery, he had curiously inquired if I ever swam with it, after checking the inside. To my surprise, it had only been then that I discovered that it wasn't even waterproof! To think the brand had said "Surfside," 10 bar water-resistant.
There was another one my partner had bought in a street market in the Netherlands. I advised my son to take good care of it, as it looked particularly impressive with lots of tiny silver dials, which almost made it look like a mini-cockpit. After about a month's time, my son showed me how the tiny dials began blocking the downward rotation of the minute hand because they've all gathered at the bottom of the watch face. And so on.
As I shared the quiet result of revisiting timepieces with the matey, it had only been then that I realized I must have spent a good hour laughing and thinking back on the watches' little stories. Well and super-duper jolly good, I have totally forgotten about this dull day of no-internet.