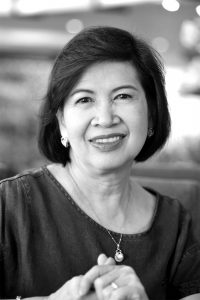 "SIR, wala napo kaming makain…" a mother of four kids told Ferdi two days after the Presidential declaration of community quarantine in March. Our Sparrow Music center was closed, which meant no free lunch for the kids and families who used to go there.
These families were daily wage earners, mostly construction workers, jeepney drivers and messengers whose jobs were affected by the lockdown. Even with regular work, these families could hardly eat three meals a day. Starting with a small budget, we immediately prepared food packs for 50 families. Donations in cash and in-kind started to pour in. While others complained of boredom due to staying home, our small family became so occupied in raising donations, purchasing goods in bulk and repacking. When we distributed 2-weeks' worth of goods to 50 families, neighbors also begged for help. Ferdi went back to give help after two days.
We are thankful to people who enabled us to extend the much-needed help in the community. We were the first ones who distributed relief in this slum area and it had become our weekly routine. Through partnerships with private companies, churches, and friends, we were able to give 4,000 relief bags and hygiene kits to families in Payatas, locally-stranded-Individuals, families with PWDs, jeepney drivers, garbage collectors and farmers in Rizal. We also helped farmers in Benguet by buying 1,800 vegetable packs that we distributed as relief goods and urged other NGOs to do the same.
During the relief phase of the crisis in May, we started assisting families to recovery so they don't rely on aid alone. When Ferdi went to Rizal to distribute food packs to farmers, they didn't want to harvest their produce because they said nobody would buy. Ferdi told them he would buy their harvest. For several months, we bought their produce, posted it on social media and asked some Payatas mothers to sell.
What we started motivated some mothers to pursue entrepreneurship. Two mothers were able to put up a sari-sari store and an online business as a result. This small enterprise also provided some fathers in the community to earn as motorcycle delivery men. This crisis opened up opportunities for our organization to venture in social enterprise that would empower people to be self-sustainable.
On October 5, we faced another challenge when classes in public schools started. Once again, God showed His faithfulness by blessing us with faithful donors. We were able to give laptops to seven honor students and additional 15 laptops, desktops, cellphones, and load assistance for mobile data to our students who are in a study-at-home setup. Our center has become a learning hub again in the new normal setting with free lunch!
This pandemic is already too much but there's more! Typhoons Rolly and Ulysses challenged our bayanihan spirit and resiliency once more. In the aftermath of Typhoon Ulysses, our team of Sparrow Music volunteers did some rapid needs assessment and went to evacuation areas in San Mateo to check the condition of their relatives. A total of 580 relief bags were distributed. We are now repacking school supplies for 170 children in Rizal! We were blessed as we witnessed how a big group of needy people in Payatas passionately give help to other needy people. They contributed whatever amount they can, gathered donations, repacked and distributed the relief goods.
Truly, God's grace enables us to give in whatever way we can. "We cannot help everyone, but everyone can help someone," says Dr Loretta Scott. As we have seen God's grace and transforming work in these people's lives and see them bless others, we are full of hope that we will not just survive in times of crisis, but thrive!