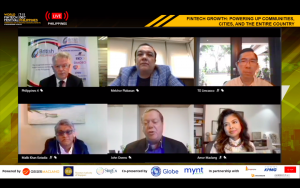 Fintech leadership is moving to Asia, and the Philippines has strong potential to emerge among its central players. This was one major analysis that came out during the first panel of the day entitled "Fintech Growth: Powering Up Cities, Communities, and The Entire Country."  Industry leaders who spoke in the panel were Bangko Sentral ng Pilipinas (BSP) Director Melchor Plabasan, Ayala Corporation CFO TG Limcaoco, Finnovation Co-founder and Chairman Malik Kotadia, senior digital financial advisor John Owens, and WFF-Philippines convener Amor Maclang. The moderator was British Chamber of Commerce Chairman Chris Nelson.
Mr. Kotadia described the turning tide of change, "There was a time that when fintech was mentioned, London was the hub of that world or people thought of Silicon Valley. But now the pivot is shifting to Asia, which is the next group engine for fintech."
Mr. Owens described how he had seen this shift come to the Philippines, with its fintech sector's stride into e-money, data sharing, and data privacy showing why it is the inarguable champion for innovation in Asia: "The Philippines as a leader, is the chair of ASEAN working group. The Philippines has one of the best central banks—the BSP–to join the region, and they continuously foster collaboration among regulators."
The success and strategies of Philippine institutions like BSP and Gcash were studied and adopted by M-PESA, the African-based mobile phone-based money transfer service.
Mr. Kotadia added that the Philippine customer base—which is one of the largest internet and social media users in the world—" is more than ready than ever before for fintech to rise in Asia."