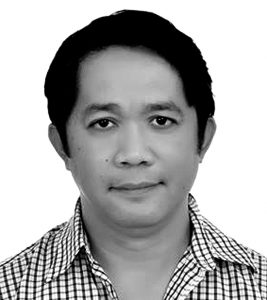 IT IS is still 1: 44 a.m., on my bedside watch, the sun isn't up yet, not even the usual crow of roosters from neighbors' nearby houses can be heard to signal the break of dawn. I should still be in deep slumber at this moment. I am an early riser myself, albeit sometimes. maybe it's the nippy early dawn breeze that crept through my window that woke me up, but when I listened more intently from my somnambulist state, I discovered that it was my mother Tina and my brother-in-law Dr. Xyan Rodelas, a practicing medical doctor, up and about at the dining area, preparing from what I picked up from their pep talk, my sister Antonette's renewed scheduled for a caesarian operation for their third baby.
So I got excited myself, decided to jump out of bed, and maybe join their talk. But almost like an automated reflex among journalists, at least from my end, is to boot up the computer or mobile device to check the breaking news that I might have missed while asleep.
I browsed the news feeds and realized that there was no earth-shattering incident, except the deeply concerning developing story on the coming typhoon that is going to hit Luzon area. I would have prepared myself for this yet major news coverage if not for this pandemic. I think I'm going to get more sleep, and besides, it is next to impossible for me to go out.
Resigned from the thought that there is nothing I can do about it, I summoned sleep once more. But as often the case, once you're jolted out from that deep slumber, it's hard to get it back again. Now that all senses are perked up, I might as well just get up and decide to write, but what?
The typhoon coverage won't be a viable topic for me since I am not in the typhoon path. I did some deep introspection and discovered that alas, I found a topic where I can be passionate to write about. I need not look further, if I just keenly observe my immediate surroundings, I can have a ton of subjects that I can digest and write about.
Certainly, I can write a volume about the newest addition to our family who is going to be delivered anytime this day, another nephew I was told, but it would be too mundane to write. I first considered it, besides, every second in this world, there is an infant being born in any part of the world, but a story that to my mind is worth telling won't happen very often. So I decide on writing about what the parents and us elders in the family have to go through when a family member is expecting a child in the age of a global pandemic.
Some of the questions anybody would be asking is, first and foremost, is it safe? Is it a wise choice? Before I could even finish typing one word on my keyboard, a child is born. I reckon there would be more than a hundred babies before I could even finish writing or you, dear readers, reading this column piece. So, back to those questions. As I am absolutely confident that it's going to be smooth sailing for my sister's delivery. My brother-in-law is a seasoned medical doctor, making rounds at big hospitals in my city and even had a weekly medical tour at his hometown in Kidapawan City to check on his patients. My sister is a registered nurse but had since retired after having their firstborn to attend to maternal duties. But despite these reassuring facts, what I've seen so far during the waiting period is that it's been quite a challenge for the couple and everyone else in the family. My brother-in-law would be up all night, making rounds at the hospital and even when he arrives home, he will be constantly on his phone on a virtual work from home checking on patients he just attended to and left at the care of the hospital for the next round of medical doctors and nurses attending to.
At one time my brother-in-law got scared–along with everyone else in the family–after he got down with a fever for what he suspected was due to exhaustion and lack of sleep. He can't afford to get sick at this stage, he has a pregnant wife, a baby on the way, plus two of their children are still toddlers. I got scared myself. He confided in me in one of our morning chats over coffee that he once handled a patient who was suspected to be a COVID-19 case. So he did all the precautionary measures to a hilt, he isolated himself to adjacent living quarters which, fortunately, just happened to be situated just at the back of our main ancestral house. The protocol we implemented was that he can't go near to his pregnant wife and his bubbly children, my three-year old nephew Rainier a.k.a Zeepot and two-year-old niece Yana. For a tired exhausted father, coming home from a day's work, greeting your own children would be your ultimate joy. But this he cannot do as he used to. A hug and a kiss from his children would have been his consolation from an exhausting and dreadful work load at the hospital tending to sick patients.
He said he felt helpless seeing his wife would be reduced to crying at the unusual situation. While he is a family to attend to, he has a life-saving profession that he must do. This a great sacrifice I personally observe from our very own frontliners now and I am certain it also holds true to the so many frontliners out there in these many parts of the world, braving the hazards of the job and protecting one's family once they go back to the safety of the confines of their own homes.
Foreseeing this is going to be a great challenge indeed for her pregnant daughter, our very own mother Tina, who for years had been based in Canada also braved going back home to help. She had to do all the required protocols and even though she already tested negative in the required COVID testing upon her travel, she went the extra mile in safety requirements by isolating herself in the house of our kind-hearted neighbor Evelyn Meyer, who lives just next to ours. She lends one of her vacant rooms to my mother almost free of charge. Many of the returning overseas Filipino workers even had the difficulty of finding the wherewithal or the means to self-quarantine once they landed the Manila capital international airport from their work abroad.
So back to the question. Is it wise to have a baby at this time of Pandemic? Certainly yes, I would be straightforward to say. Every child who is born even at these trying times has the right too to journey in this world. Just as I reflect on my very existence, I just turned 46th. That's too many orbital journeys around the sun already for me. I could not ask for anything my life, I lived a full life, I think I can say it with candor. If another near-death experience comes knocking at my door again, be it natural cause or work-related, I think I am ready. At barely four days old, I watched my new nephew baby Raiden in the loving arms of his happy father and grandmother. A baby born in this world at this point should give us a sense of hope. That as sure as the rising sun and it's setting at night, our human existence in this world must continue, just like it did in the millions of years of human evolution.
Pandemic or not, love will always grow perennial like a grass, even in the midst of storm, famine, drought, and any upheaval in our lives. It will always grow no mother what. We must respect nature and learn the lesson it can give to us. Just like what I observe from my dear aunt Margarita Casipe, even at the age of 76 still busies herself everyday tending to her plants. I grew up with a nice garden in front of the house and a variety of vegetable plants in the backyard. She was a certified plantita, long before that world became an operative word to those who love planting. If one attends to plants with care, it can give you joy when its flowers start to bloom or give us nourishment when it bears fruits. Very much our role, too, as adults in rearing the young. It should be a united effort among the family members to protect and rear the young to ensure the continued survival of our human existence.