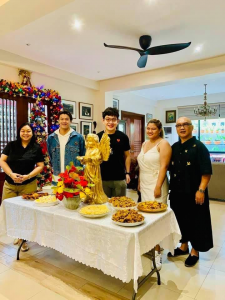 "GAPANG" is how the young chef cum restaurateur Patrick Co of Fat Cow and Asian Cow restaurants would describe the food business at this time. It was not too long ago when the energetic young chef was all over the city distributing ever so diligently food packs as "ayuda" for the frontliners and indigent families. He also explained that he found it his responsibility to continue providing jobs for his restaurant's kitchen crew and service staff. Such kind acts only show his fervent love for the rough-tough business.
"Davao's restaurateurs and restaurant operators are facing an unprecedented crisis. I am fighting for the lives of my restaurant businesses even as the Corona virus continuously spreads in the city. I am determined to make it through this. I don't have a choice," reasons chef Patrick. And because of that love and passion like what chef Patrick possesses, restaurants have historically proven to be far more resilient than many other small businesses, not least after wars and pandemics have utterly destroyed them. But the sad reality in the city though is that many neighborhood joints and restaurants in malls have already closed their doors.
"In response to this pandemic, restaurants that have chosen bravely to continue to operate are struggling, trying to make do with take outs and delivery services. Unfortunately, neither appears to be enough to ensure survival for many of the restaurants which are just staying afloat. The government's strict regulations on social distancing, on premise seating capacity and safe work environments are impossible to meet in regular restaurants. Those that are affected the most are the self-service buffets; large volume and full service restaurants; banquet halls; clubs and bars; and cocktail lounges. Imagine the lost opportunities for socialization that many people are craving for after so many months of quarantine and compulsory staying-at-home directives. How many of my friends and clients have told me that going out to their favorite restaurants is one of the things they missed most during the couple of months of deprivation," laments chef Patrick.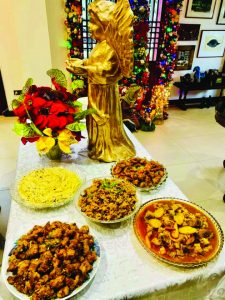 As we are now fast approaching Christmas and despite the government's warning against having Christmas parties, chef Patrick has come up with his "Make your own Christmas Party Package at Home" which is a good and complete culinary treat for five to fifteen people. "It is a Filipino family tradition to put special food on the table for the family's Noche Buena to welcome Christmas Day; and plentiful food for the Media Noche to welcome the New Year because it is believed to bring prosperity to the family for the whole year. I have designed Fat Cow and Asian Cow's new way of having a personalized holiday culinary celebration in the comfort and safety of your own home. Our generous serving size will be enough for your specified number of diners. I think this campaign will be very convenient and stress-free for you as with just a tap of your finger, you can choose your desired holiday feast consisting of appetizers and salad; main course of your choice of chicken, pork, beef, or seafood; pasta or noodles; and dessert. The dishes that I am offering are my top favorites coming from the menus of both Fat Cow and Asian Cow. With my set holiday meal packages, you can have the best from both restaurants. Whether you want a steak and pasta night or maybe an exotic Asian fare, I can wholeheartedly do it for you. I guarantee you that I will be bold, innovative and creative just to give you a memorable meal with your loved ones on this very special time of the year. Orders (call 224-5906) should be made at least three days before the scheduled date. You can pick up your order at Fat Cow or you can have it delivered at your doorstep," details chef Patrick.
It was last November 24 when chef Patrick decided to honor Davao athlete Sydney Sy Tancontian for having won a bronze medal at the World Sambo Championships held in Serbia. She gave the Philippines a first medal of the World Championships. In 2018, Sydney also won for the Philippines a bronze medal in the World Sambo Championships held in Bucharest. In attendance to enjoy chef Patrick's sample of a pre-Christmas feast were Janet Sy Tancontian and her beloved son of a Southeast Asian Games champ, Chino, who accompanied Sydney. The lunch menu consisted of delicious ginataang Angus caldereta, chicken and tofu rendang, salted egg chicken, steak garlic fried rice, black truffle pasta, and a carrot cake with figs for dessert. Chef Patrick didn't join the group for lunch as he had to go back to his restaurant. "Besides my work, I am presently observing intermittent fasting," chef Patrick excused himself.
Thank you, chef Patrick, for the ki  ndness. May you have more blessings to come your way.