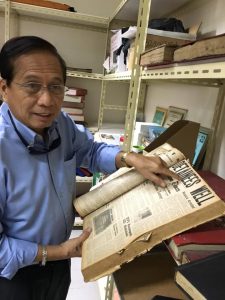 IN May 2014, about 2 years before the May 2016 elections, tongues are already wagging about a possible Duterte presidency.
While several sectors are encouraging Mayor Rody Duterte to run for Philippine president, he has a way of saying: "THANKS, BUT NO THANKS!" His reason: "Filipinos somehow send to prison their presidents starting from Erap, now Gloria and who knows, later maybe Pnoy too! No, I don't want to go to jail myself!" How can you argue against that? End of discussion.
HAZARDOUS — Being in public office can now be "hazardous ". But still, that cannot justify why some of them awarded themselves "hazard pay" by getting their dirty fingers in the cash-filled cookie jar!
CALLOUSED? — For the first time ever, our country is facing a corruption issue in a magnitude never before experienced with the wholesale involvement of high public officials. While foreign officials resign from their high positions if faced with a controversy, not a single Pinoy official up to now has resigned — not even a single "leave of absence" while every single day, the list grows longer and longer! Are we now a calloused people?
SYSTEMIC GAP — There is something grievously wrong with the system. If Benhur Luy and Janet Napoles did not have a " falling out", this scam would have not been publicly known. And many officials may still merrily help themselves with the taxpayers' money. Our control systems just didn't work. So, how do we fix this?
COUNTDOWN — There are 721 remaining days left to the May 9,2016 national elections. In the meantime, the NAPOLIST issue is still raging with new twists and additional names. Entertaining for all voters! Let's see if our voters are more circumspect next time.
MY GOLF CADDY — "Kami lahat DUTERTE dito kung tatakbo sya pagka presidente. Kaso ayaw yata. Kaya BINAY kami sa ngayon." ( "We will all be for Duterte here if he runs for president. Problem is he seems not interested. So we are for Binay for now".) This was my golf caddy at the Intramuros golf links in downtown Manila, not someone from Davao, talking. I was trying to divert his attention from my bad golf swing so I started talking politics. When he spoke of Duterte, he did not even know yet that I was from Davao. Caddies usually try to make their players feel good especially when the going in the fairways gets rough — or should I say — going to the "rough" of the fairways literally, which was actually happening! I haven't played golf for months but JCI Senate Foundation President TONY CERILLES (also governor of Zamboanga del Sur) would not take "no" for an answer. So my caddy and I watched helplessly as my whacked golf ball, flawlessly off-target, soared over the centuries-old adobe brick walls towards the Manila BULLETIN building on the other side beyond the fairways. "OB sir!", he shouted. (OB stands for "out of bounds" with a 2-stroke penalty). Never mind that penalty! I was interested in what he had to say about Davao Mayor RODY DUTERTE.
During that same week, my Ateneo college classmate CESAR "Osting" LAPID from Cagayan de Oro City called and asked whether the DUTERTE FOR PRESIDENT movement was going to his place in CDO because his friends there were already asking, knowing that Osting originally came from Davao. Then just within days, during the culmination of the Press Freedom Week in Cagayan de Oro, mediaman Ruffy Magbanua emailed me a situationer where he reported that the three (3) Mindanao stalwarts, Reuben Canoy, Homobono Adaza and Aquilino "Nene" Pimentel who were honorees during the media event had spontaneously agreed to help convince Mayor Duterte to consider running for the presidency to install a Mindanaoan in Malacanang –there being none in recent memory. Very significant is that all three (3) are FEDERALISTS, whose dream for Mindanao was to go federal. Then, in no time, I read a report that Mr. Canoy, formerly assemblyman and a pre-martial law advocate of Mindanao independence, immediately flew to Davao and promptly met with the mayor behind closed door at Marco Polo Hotel. The details of the meeting were not known except to say that again, expectedly, Duterte told him to look somewhere else.
"I DON'T WANT …" Then I opened the Manila TIMES newspaper a few days ago and saw a front page story entitled: "DUTERTE: DON'T MESS UP WITH ME; I DON'T WANT TO BE PRESIDENT" . At the lead paragraph, he categorically declared he was not interested to run before an assembly of the Philippine Army in Davao where he was guest speaker. But then if you read further on he said something to the effect that if, yes IF, he were given a mandate to be president, he would abolish Congress, call for a revolutionary government and focus on reforming the country. Without admitting it, he seems to have given it some good thought too. Who wouldn't?
"DON'T F__K HERE" I may be getting it all wrong but the temperature for Duterte is fast rising. After his much publicized "I'll kill you" statement in the Senate during the rice smuggling controversy, he quietly worked and secured the safe release from the NPAs in COMVAL area, the members of the survey team of the DENR. Then, everyone could not forget how the main CM Recto Street in downtown Davao City got littered with dead bodies of armed kidnappers from Manila who thought they could collect their ransom from a victim in a Davao City bank. Duterte stood over the dead bodies and merely said: "Don't f__k here!" The woman victim was recovered safe. And just as I write this piece, the gruesome murder of a prominent businessman, Sonny "TY" Garcia in Davao City was solved even before the public woke up to learn about the brutal incident the following morning. I heard someone proclaim: there may be unsolved crimes all over the country, but not in DUTERTE COUNTRY! But no, that's not really accurate knowing that Duterte's turf is still in the human rights map for summary killings.
ENIGMA — Yes, Duterte with some of his unorthodox ways continues to be an enigma to many. Truth to tell, I had talked with Mayor Rody about the presidency many times over but not so much about encouraging him to run, as I am also still tentative about it myself. I totally agree with him that THIS IS A LONG SHOT! But I did so upon requests of several well-meaning friends who were not from Davao and who thought I was that close to "Digong". ( His closest, by the way, was my late brod-in-law Charlie "Paging" ALDEVERA whose advice he always sought and whose last word on the presidency clamor was: DON'T! ) Mayor Rody had consistently and confidentially told me that yes, being president is "destiny" but he is not cut out for it. He confided to me of several groups and national personalities who also talked to him about it. He gave the same answer. "Baka nag kamali kayo kung ako e- presidente nyo.," was his standard answer.( " You might be committing a mistake if you make me president"). He told me of another group from Manila who came to ask his permission that they would organize for his candidacy. He cut them off immediately and told them firmly: NO! At the very least, however, they got his assurance that he would not publicly embarrass them after they said that they would still proceed with their plans "even without his blessings". When the group left, he told me later that he agreed to the latter arrangement out of courtesy as they were prominent citizens.
I remember early 2014 in the course of my Zamboanga City visits following the MNLF siege, an association of Zamboangueno taxpayers asked me to hand carry an invitation to Mayor Rody as their inducting officer, although they told me they wanted to launch a DUTERTE FOR PRESIDENT core group during the event. When Rody asked me, I truthfully told him. He declined the invitation.
WHAT IF? —But there is no question at all in my mind that he had seriously mulled this over. In fact, in one occasion, we had a freewheeling "WHAT IF" chat. What if you were president, I asked him once. Without thinking, he said: "I will first run without a congressional or senatorial slate because first thing I will do if I win will be to declare a revolutionary government and abolish Congress. Then I will initiate reforms." Under the present rules, he said, there is no way we can institute reforms. With all the big interests entrenched that are controlling all aspects of the country, he said he would only be gobbled up helplessly by the system and rendered inutile. " I may even end up in jail like all the presidents we know," he said seriously. But here's something interesting. While he seems not too confident about himself as a candidate, he is sure and certain about an agenda for the country. As a matter of fact, ( and I risk getting his displeasure on this) he may be persuaded to instead campaign for an advocacy, a plan of action, a program of government, a reform agenda. Whether it his him or someone else to carry it through is not yet an issue.
Usually, our chat about the presidency gets endless but Mayor Rody knows exactly how to cut it by merely telling me as he stands up to go: " Basta ikaw ES –executive secretary –ha?" We then would laugh together. He knows exactly my turn-off point, having told him before that the position in Malacanang that I would NEVER accept nor aspire for, as far as I was concerned , was that of the ES, having seen it close and even having been, in fact, officially designated ES for several days during President Gloria Arroyo's time when ES EDUARDO "Ed" ERMITA went abroad at one time. But that's another long story.
NOT IN SURVEYS — Last week, my bosom friend, publisher and veteran journalist SERAFIN "Jun" LEDESMA , Jr. posted a blog which, among other things, asked why, with all the growing hoopla on the DUTERTE FOR PRESIDENT noise, the survey firms had EXCLUDED the name of Mayor Rody from their surveys. Someone even remarked: " They even had KRIS in the surveys, why not Digong? " Why oh why indeed?
From the looks of it, the DUTERTE ENIGMA is still an enigma. Is he for real? Is it really true that he is getting traction nation-wide as an "alternative"? Is the general public buying his line about radical reforms? Or is this just a passing fancy fanned momentarily by the Napoles scandal? Perhaps, including his name in the succeeding surveys by pollsters like SWS, Pulse Asia and others can give us a good read. Then and only then can we validate what that golf caddy in Intramuros told me about Duterte's winnability. But most important of all, we will get some indication whether the public is indeed prepared to accept and adopt the unorthodoxes that the Duterte enigma represents. Then perhaps, this can be a signal for that momentous step for Mindanao, or the whole country for that matter, to go FEDERAL!
"SHOOT ME NOW" — After Mayor Duterte, in a light bantering manner, said in his TV program that he would shoot all those who had been pushing him to run for President, Manila TIMES columnist and TV broadcaster MON TULFO, a native of Davao Oriental in the east coast, was more aggressive. He said: "Shoot me now, Mayor Duterte".
EPITAPH — Veteran Mindanao journalist Serafin "Jun" Ledesma went further. He said he wouldn't mind composing in advance his graveyard epitaph just in case Mayor Duterte makes good his threat of shooting him for supporting the DUTERTE FOR PRESIDENT movement. But instead of him composing his epitaph, I volunteered to compose one for him. It reads as follows: "Here lies a hard-headed visionary who had to lay down his life so that a reluctant would-be President of the Republic may see the light."
Yes, the temperature about a possible Duterte presidency started to simmer! As the saying goes "where there's smoke, there's fire"!