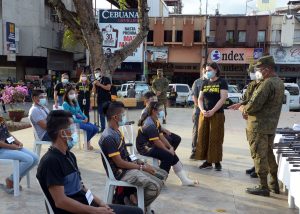 MAYOR Sara Duterte has urged members of the New People's Army to surrender and help the government as she received 11 former rebels and their firearms during a program Tuesday.
In an interview after the program, Duterte urged the former rebels to help the government in convincing their former colleagues to return to the folds of the law so they can work with the government in pushing for development.
"We ask for their help in convincing their former comrades that the real war is inside the government and not in the mountains. They can see change if they work with or for the government," she said.
Presenting the former rebels to the mayor were Major General Reuben Basiao, 10th Infantry Division commander, and Brig. Gen. Nolasco Mempin, 1003rd Brigade commander who once served as commander of the city-based Task Force Davao,
Also present during the event were tribal leaders led by Bahani Edwin Libayao Omo Sr., chair of the Ancestral Domain Management Office Domain Defense and Security Committee,
The leaders of the indigenous peoples were present during the event to show their support to the city government in pushing for peace and development programs in the hinterlands, particularly in their ancestral domains.
The military report that the 11 either surrendered or were captured during encounters with soldiers in the rural areas of the city during the last three months. The latest encounter took place recently in Paquibato where two rebels, both former scholars of the Mindanao Interfaith Services Foundation Inc., were captured.