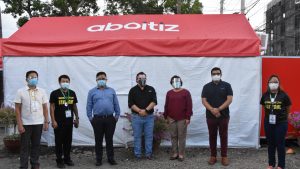 As the COVID-19 pandemic continues to affect the livelihood of citizens across the globe, careful measures and proper care must be taken for those who are afflicted by the virus.
In its mission to uplift local communities, the Aboitiz Group, through AboitizPower and the Aboitiz Foundation, turned over a total of 20 air-conditioned isolation tents to the Southern Philippines Medical Center (SPMC), the primary COVID-19 treatment hospital in Mindanao. The group partnered with Cebu-based Concepcion Industries, Inc. for the air-conditioning units.
Danel C. Aboitiz, AboitizPower Senior Vice President for Regulatory Affairs and External Relations, led the turnover of the tents that are meant to address congestion in the hospital and provide a more comfortable isolation facility for patients.
Aboitiz expressed his optimism and hope that these tents will be able to help the frontliners of SPMC and the Department of Health (DOH) provide their patients safe and comfortable isolation facilities.
Davao City Mayor Sara Duterte-Carpio, through Dr. Ashley Lopez of the DOH, thanked the group for their continued support in the fight against COVID-19.
"On behalf of the City Government of Davao, I would like to convey my heartfelt gratitude to the Aboitiz Foundation for your support and benevolence for Dabawenyos, in the form of these tents and air-conditioners which will be used in the holding area of the Southern Philippines Medical Center," she said.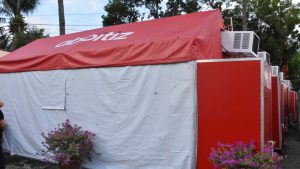 "This will help improve our services to patients who are not yet called to the isolation facilities by providing a secure environment where they can rest comfortably as they wait," the mayor added.
As the city of Davao faces challenges in its battle against the plight of COVID-19, the Aboitiz Group continues to provide a helping hand in support of the local government and its constituents.