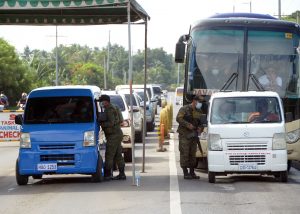 THE PILOT testing of the Safe Davao Quick Response (DQR) code was successful, according to Task Force Davao commander, Col. Consolito Yecla.
"We successfully started the DQR scanning. While it is still not a mandatory requirement, it is a big help for contact tracing," Yecla said.
"We are requesting all Davaoeños to secure the Safe Davao Quick Response (DQR) to ensure that they will not be denied entry in our checkpoints," he added.
"We also remind everyone that DQR is only for essential travel," Yecla said.
He further said they can still be denied entry even if they have DQR if their movement is not essential and without proper documents.
Local residents traveling within the city's borders have to check Executive Order 62 for the requirements.
The visitors and returning residents have to check the requirements prescribed in EO 63-B.
DQR Status as of 10am today, 25 Nov 20:
Three TF Davao checkpoints already started scanning DQR of individuals entering Davao City.
Soldiers started checking at 7:30 a.m. in Lasang checkpoint , 8 a.m. at the Sirawan checkpoint, and 8:10 a.m. at Lacson detachment.
As of 10 a.m., they have checked 37,920 individuals — Lasang checkpoint (20,123), Sirawan checkpoint (9,693), Lacson detachment (8,095).
There were 27,219 total Individuals with DQR — Lasang Checkpoint (12,994), Sirawan checkpoint (8,166), Lacson Detachment (6,059).
Overall Percentage with DQR – 72%.
With that, Yelca said there was no issue or problem encountered by the Task Force Davao in implementing the Safe DQR at checkpoints.
On Monday, Mayor Sara Duterte announced that the implementation of the DQR code is suspended until it can be read by all gadgets. She said the city is still waiting on the list of establishments and offices that are ready to implement the DQR code. When they get the list they will announce the names to the public.