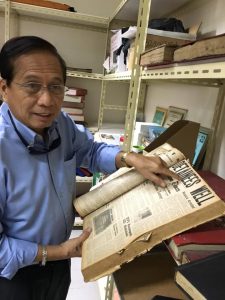 TODAY, the Bangsamoro Autonomous Region for Muslim Mindanao (BARMM) is a reality. Congress passed a law that provides that the Bangsamoro Transition Authority (BTA) its transition mechanism will end in 2022. I strongly support the on-going clamor for its extension to 2025.
(I wrote this article on October 13, 2014, while Congress was still working on a law that would entrench the peace agreement with the Moro Islamic Liberation Front.)
AS NEGOTIATOR — My previous work as "negotiator" was varied. I spent almost HALF of my lifetime doing it where I somewhat SUCCEEDED. And let me also tell you later about my LIFE-LONG "negotiations" that I always FAILED.
RECALLING — I dealt with hostage-takers at the Davao Penal Colony where all eight hostage-takers were "neutralized" (killed) and the stand-off resolved; I helped in the surrender of prison escapee "Bucay" Manero; the peaceful surrender of high-value suspect Datu Unsay Ampatuan in the Maguindanao Massacre; the surrender of armed rebel commanders in Lanao; the pacification of desperate and hungry farmers at Sultan Kudarat during the EL NINO in 1998; the handling of angry and grieving families of plane crash victims in Cagayan de Oro; the release of Army general Obillo and his junior officer Ed Montealto by NPA Kumander Parago in Davao after a trip to the Netherlands and meeting with Joma Sison; the safe return of Marine General Ben Dolorfino and OPAPP Usec. Mon Santos from the hands of MNLF Commander Habier Malik in Sulu who figured in the Zamboanga siege; handled the return of MNLF's Nur Misuari back to the country from Malaysia where he was arrested after a failed uprising in Sulu. Then during the time of President Duterte, I was able to negotiate with terrorists, the ASG, in Sulu on different occasions the safe return of Norwegian Kjartan Sekkingstad, 8-year-old Rexon Romoc, Marites Flor, two PNP ladies, five Indonesians and a few others.
Those were the days when almost half of my lifetime was devoted to "negotiations."
"NEGO"WITH REBELS — But here's an indisputable fact: negotiating with rebels in peace talks and getting agreements done is something else. They are more complex to handle given that there are principled positions and grievances, mostly generational, that have to be addressed. I had the privilege (and agony ) of being part of the peace negotiations with the CPP/NPA/NDF while I was Davao Congressman as House representative in the government panel during the Ramos administration; and as chief negotiator with the MILF while I dealt with implementation issues with the MNLF while serving as the presidential adviser during the Arroyo administration overseeing the whole peace process, not to mention Cordillera's CPLA and other so-called "breakaway" groups. And yes, as peace adviser of President Duterte.
No doubt, dealing with armed rebels who have waged a rebellion against the government to seek peace is totally a different story from those cases which are purely criminal like hostaging or bringing in of suspects back to the folds of the law.
Peace negotiations are not only about pacification and law enforcement. This "genre" (or special class) has deep political dimensions that must be carefully navigated and adroitly handled. Let me share with you some insights.
BEYOND GOVT — First, rebels by taking up arms and rising up against the government, impugn, reject and even challenge the legal order. They consider themselves as outside the "ambit of our laws" as they do not operate under the Philippine legal framework. In fact, they rise up in arms against it. Hence they claim that they are beyond the reach of the laws and the government. So people should not take it against them or be surprised if they refuse, during negotiations and in signed agreements to make reference to the Constitution or the laws of the land. To do so is to impose on them prematurely what they reject. To do otherwise is, to them, early capitulation and a betrayal of what rebels fought for in the first place.
AS EQUALS — In my negotiations across the table, the principle of "parity" or of equal status between negotiating parties is assumed. Of course, the government does not concede this but being on a high moral ground than rebels, it temporarily "suspends disbelief" and allows the rebels to negotiate under those parameters. So one party, in principle, cannot admit being subsumed or of lower status than the other. For instance, as a result of this, signed agreements with the MILF or the MNLF for that matter, make direct reference to and use as framework international protocols or mutually agreed references and the Philippine Constitution is obviously not one of them. This is a strategic and calibrated move to eventually bring peace.
CALIBRATION PROCESS — But the signing of the FINAL Peace Agreement and the IMPLEMENTATION phase signal a strategic shift in this calibration process. At this point, the primacy of the basic law of the land is a "GIVEN" simply because implementing the terms of any peace agreement must be done within the context and confines of the internal laws and under the coercive force of the government. Even the MILF recognizes this as a reality and will have to submit to this unequivocally as the peace process mutates and takes its inevitable course under the good offices of the government. I refer to this as a "calibration process" that everyone must understand. This is something that Congress must first understand as they now scrutinize the draft Bangsamoro Basic Law (BBL). Absent this insight, we may unnecessarily dwell and focus and find fault and at every turn quibble on every word or phrase or provision — or look for what is not there — in the agreement and its annexes, looking at them through the conventional prism of constitutionality and legality. Just to illustrate: the "annexes" of the agreement were signed in the course of negotiations and BEFORE the final peace agreement and they were done so during the "calibration" stage. And there are NO references to the Philippine Constitution that we all consider a "must". So it is important that the contemporaneous stage at which those vital agreements were signed and sealed had to be seen in this light. Congress and the public must understand all this in this light. I need not explain more.
INCREMENTAL —Thus, I cringed and squirmed in great discomfort when I heard one congressman insisting that the BBL must contain a commitment from the MILF that it would not at all go back to the hills again and rebel again. Peace agreements, although the ultimate repository of what was mutually agreed upon, are not "self-executing." They are merely pieces of paper, although sacrosanct, that will raise expectations among expectant stakeholders. They have to be implemented in time — –on a long-term basis. The process is incremental. We need not say here but it is obvious that failing in keeping true to the government commitments will drive them back, maybe not all, to fight government again and continue their struggle. No amount of cautionary words in the BBL foreclosing their right to rebel again will remedy this. What is key is implementing the terms of the peace agreement, which is not only to show sincerity but more importantly, we improve forthwith the lives of our own disadvantaged Filipinos who felt that they were excluded from the mainstream.
DISARMAMENT — I had reason to also feel discomfort reading the blaring media headlines, courtesy of OPAPP statements (where I previously served) bannering disarmament or decommissioning protocols well ahead of progress in the congressional work on the BBL. I find this imprudent, although the purpose may be to make the public feel good that the armed rebels will eventually get rid of their firearms. I heard already audible grumblings on the ground from some MILF elements on this. Let us not forget that the MILF agreed to this but only on a phased basis, depending on the implementation outcomes. It can happen only when there is significant progress in agreement implementation and when a" firearms-less" enabling environment is at hand, which requires disarming of warlords, politicians and other criminal elements. Absent this development on the ground, do you think the MILF will voluntarily disarm? Think again!
MILF PARTICIPATION– I was even surprised to see the MILF, through Panel Chair Mohaqher Iqbal once gamely participating in the congressional hearings. Although this is a positive development for government, I thought the MILF would have been better off leaving the government panel to defend and advocate for the CAB. To be subjected to the rigors and discomfort of congressional scrutiny is something the MILF will definitely not relish organizationally, given that they have not forsaken their bottom-line positions while the final form of the BBL is still unclear. In my humble view, that canalizes MILF's remaining options. However, on a positive note, it can be interpreted to mean that MILF will eventually accept and submit to whatever final decision Congress will arrive at — which augers well for peace in the land. But will it? That we still have to see!
MY FAILED NEGOTIATIONS — And yes, before I forget, I said at the outset that I would also disclose my LIFETIME negotiations where I always FAILED. And for sure this is true for all husbands like me.
I have to publicly confess here and now the never-ending and most inscrutable and difficult of all: "negotiations" with our dear wives on matters that are conjugal in nature. This is one area where all husbands (including myself) may not claim much success! Otherwise, there will no sustainable peace, not in the land, but in our households!
(All husbands must say in chorus: " amen, amen to that". Or "yes, yes I agree!"! Whatever or however you say it, pls. just don't deny it! Ok?)
End of my public confession — on my never-ending travails — for peace!!