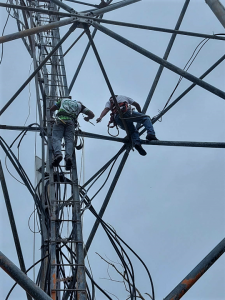 Anticipating strong storms in the coming months, Smart Communications, Inc. (Smart) has started beefing up its emergency response teams in Mindanao. Through the prepositioning of equipment and personnel, the wireless arm of PLDT is ready to respond quickly to any calamity, and to ensure uninterrupted service for its customers.
With the recent typhoons hitting Luzon and the Visayas this month, PAG-ASA warns that typhoons in late December or early January of next year may hit the northern parts of Mindanao. The recently-declared La Nina will also intensify the rains that these weather disturbances bring. Several years ago, Mindanao bore the brunt of several powerful storms including Tropical Storm Sendong, Typhoon Pablo and Vinta.
Under its #SafeandSmart advocacy, Smart has been at the forefront of disaster management in the Philippines – from mitigation to recovery. Darwin Flores, Smart VP for Community Partnerships, shared, "Telecommunications play a very important role before, during and in the aftermath of severe storms. Smart continues to take an active role in strengthening the capacity of high-risk communities to help them prepare and recover from the impact of disasters."
In Mindanao, Smart has prepositioned communications-as-aid kits to teams on the ground. These include tents, booths, phones, and WiFi devices that provide emergency communications to those affected by calamities, through its Libreng Tawag, Libreng Charging, and Libreng Wifi stations. These have been distributed to key cities and calamity-prone areas such as Surigao, Davao, and Zamboanga.
"For the past years, PLDT & Smart have been committed to responding quickly during disasters. We want to make sure that we are prepared in case a strong typhoon or earthquake hits Mindanao," shared Jonathan dela Cruz, Center Head and AVP for Regional Customer Development for Mindanao.
Emergency response teams for network restoration have also been activated and are ready to respond in case of any emergency, including network interruptions. Rodel Agustin, Network Field Services Center Head for Mindanao, said, "By design, our networks are already resilient, but we also have a disaster recovery plan in place, which covers all activities, before, during and after any disaster. Our teams and equipment are also strategically prepositioned to enable us to mobilize immediately."
Technology-enabled communications platforms deployed by Smart are also activated during disasters. Smart Infocast, a short message service (SMS) broadcast platform, enables local government units and agencies to send free text message alerts to its response teams and constituents and the Emergency Cell Broadcast System, sends out location- and hazard-specific warnings through a dedicated channel, ensuring faster delivery of information.
These efforts of providing continuous availability of communication as aid and immediate relief before, during and after disasters are part of PLDT and Smart's #SafeandSmart program that advocates for safer communities. PR