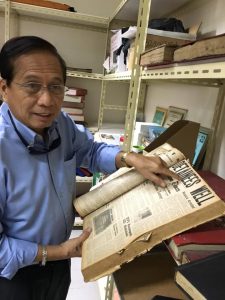 (I wrote this piece in August, 2012 about how the SY family "started from scratch" and went on to become the wealthiest family in the country today with SM Malls operating all over the country and in China. I was taken in as SM company consultant by Ms. Teresita "Tessie" Sy Coson, one of the Sy siblings.
TODAY, I still serve the Sy family courtesy of Ms."Tessie" as the independent director of 2Go, a shipping and logistics company under the chairmanship of Davao scion Dennis "Dondon"Uy.)
AUGUST 12, 2012 —I was on a private plane from Manila to General Santos City with Hans Sy, one of the sons of tycoon Henry Sy, Sr. last week. We flew to attend the opening of the new SM Mall, a mammoth mini-city in the heart of Gensan City. And for about 2 and 1/2 hours of flying, I got a glimpse of the pioneering efforts of the Sy patriarch from his son Hans who oversees the 45 big SM malls in the country (soon to be 46 with the Lanang Davao SM within the next month or so) and the four big grand malls in China with one additional soon.
The old man Henry, Sr who today, although strapped to a wheelchair, still insists that he is informed of major business developments of the family and gives his consent in his own way.
I found fascinating the old-fashioned family-centered values that somehow welded together the Sy family of six children up to the present day. I have not gotten Hans' permission to make some of our conversations public as some were personal matters and given in intimate, unguarded conversation, but I'll take the chance knowing that they resonate with my own experience, although at an entirely different level. There are also good lessons there to share.
For example, Hans recalled that not one of his siblings during college went to school abroad although the family could very well afford to send them anywhere in the world to study. The old man Henry, Sr. wanted to keep the family bond closely knit and did not allow anyone to leave the family during their formative years. They all stayed under one roof, at times in one room when they were young. At age 14, they were already trained to work in the family business. To keep invasive values from affecting the young minds, there were no TV sets in the children's rooms. To watch, they had to join others in the living room.
Hans recalled that when they moved to Forbes Park where his neighbors and playmates were also rich families, he would be embarrassed at times reaching for coins in his pocket during weekend outings of the " barkada" who had so much money to spend. His father insisted on a meager "baon" for his son so he would, early on, see the value of money.
I recall my own childhood. All eight of us Dureza brothers and sisters stayed in one room, simply because we had no other choice as we had one bedroom for all of us and we slept under one big mosquito net on the 2nd floor of a stilt house in the barrio in the south. It was not a matter of choice though. Unlike the Sys, we could not afford a bigger house.
When later I got married, when my own four kids were of school age, my wife Beth and I insisted that they all stay in one room although there were enough available rooms for them to stay separately. It's a simple formula of bonding the kids. And when they grow up, they know how to sort things out among themselves since they were trained to do so when they were small, unlike children who start young with their own private rooms where they cloister and seclude themselves from the rest when things go wrong. In our family's case (just like the Sys), children were expected to work things out among themselves because they got to stay in the same room and just couldn't avoid each other when differences arose. Of course, I can't speak for others but in our family, this worked. And from what Hans told me, it also worked for them.
Hans, during that trip to GenSan had his son Mico, fresh from an engineering school abroad, tag along. In the inspection rounds of the GenSan mall and Lanang and Matina in Davao City, it is evident that the Sy legacy has been passed on to the next generation with Mico now picking up not only his father's skills honed from empirical work but the work ethic of hardwork and "hands on" style of running things, as well. It may be good to mention that when Mico first sought permission from the family to break the long tradition of not going to school abroad, there was an initial strong resistance to the idea. But the family finally relented due to the call of the times — but not without the grandfather Henry Sr. giving him a long advice of how he should make up for the lost time with the family and his siblings while schooling abroad.
Hans, bowing also to the imperatives of the times, confessed that he allowed his young schooling daughter to have a TV set finally installed recently in her room to make up for being most often alone in the absence of her siblings.
It's good to start them young.
Henry Sr., considered today 's richest Filipino, aside from his old-fashioned ways that have been preserved to this day, is also a pioneer in introducing innovative ways in business. When he separated ways with his original business partner, he chose to leave the merchandise behind to his partner and instead took with him the goodwill and the brand that up to this day is emblazoned almost everywhere: "SM". The brand name was to become his lucky charm of sorts.
When he opened his own SM in Carriedo in old Manila in 1958 after he put up his own store, he began to wonder what everyone was doing during the traditional two-hour "siesta time" from 12 noon to 2 p.m. At that time, all stores shut their doors by noon for lunch break. He decided to do the unproven. He did not close his doors while others did. He was open for business while everyone was out for the noon time rest. In no time, his instincts proved correct. He thought everyone was resting or nowhere to be found because there was no place to go. He provided it. Soon thereafter, his store was filled with customers and the crowd increased. Of course, others soon followed suit.
Another pioneering case in point: During those times, the so-called " Blue Sunday law" was in effect. No establishments were allowed to open on Sundays and on holidays. Again, Henry Sr.'s pioneering spirit moved him to do the unthinkable: open on Sundays and holidays so people would have places to go during those lull, quiet days. But he had first to overcome one big obstacle: how to convince his very prayerful and religious wife, Teresita, to agree. Sundays and holidays of obligation were sacred to her. That was the most difficult part but nevertheless he prevailed. The Blue Sunday law was eventually abolished. Sundays and holidays have become the most busy days for many. And the rest is history.
Another family sibling, Ms. Teresita Sy Coson, the Sy family's eldest daughter who runs Banco de Oro ( BDO) for the family, also began wondering why commercial banks that served the public had to cease transactions after the usual business hours and during weekends. Clearly inspired by the same genetic instincts, Tessie also did the unthinkable. BDO, the biggest of the commercial banks in the country today, is open during those unusual banking hours for the convenience of the public. That 's bloodline in action.
I recall when Tessie arrived at the Davao airport to be the speaker in a business conference, she disembarked from the plane, pulling herself the traveling bag that looked heavy. Of course, there was a scramble from those meeting her to help her with her luggage. She declined with a nice " thank you" and nonchalantly went toward the exit door. When I asked her later if there were some valuables inside the luggage that she declined some help, she simply said: "I'm used to doing this all the time, Jess. And by the way, there are no valuables there to worry about."
The old-fashioned values remain. The legacy continues up to today.