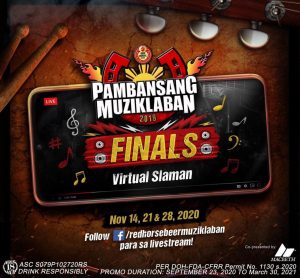 After all the uncertainties, this year's rock battle ends on a high note as top bands from all over the country emerge to vie for the coveted crown. Red Horse Beer tunes in to the times and trades its live stages for an online platform as it airs performances of the Muziklaban finalists and Red Horse Beer evangelist bands over its Facebook page (www.facebook.com/redhorsebeermuziklaban) on November 21, 28 & December 5, 2020.
Adding to the hype, the online experience includes a "Virtual Slaman" where rockheads can enjoy the event in an exclusive Zoom room and hang out with other slameros. A Slamero of the Night will be selected and win Red Horse Beer merchandise and other apparel from Macbeth.
To make the competition more intense, Red Horse Beer widened the field accommodating 12 bands, instead of the 10 groups the year prior, adding a wild card slot for both the hard and heavy rock LAKAS and the alternative rock AKLAS categories.
Another twist to the competition, rakistas can now do more than cheer for their favorite bands as fans can now vote for finalists to win the Repa's Choice Award. One winner each from the LAKAS and AKLAS categories will win the plum and take home Php50,000 each.
On November 21, Atthismo from Bulacan, Pahina from Metro Manila, Mildskill from Laguna, We the Dying from Iloilo City, Moawh from Davao, and wild card entry Switchblade from Metro Manila will play hard core hits to try and take home the LAKAS title. Come November 28, Project Roots from Nueva Ecija, Molay from Metro Manila, Pikaso and the Ritos from Batangas, Errorcheck from Cebu, Cross T26 from Davao, and wild card entry Blancsugar from Cebu will play their way through to win the AKLAS trophy.
On December 5, an all-out rock fete will ensue as Red Horse bands perform leading to the announcement of the 2019 Pambansang Muziklaban champions. AKLAS and LAKAS Red Horse Beer Pambansang Muziklaban winners will each receive P500,000 cash prize from Red Horse Beer and an additional Php25,000 and other apparel from Macbeth.
What makes this competition special is how it involves its stable of evangelist bands in the process. First introduced four years ago to spice up the competition, the "Building a Rakista" component was designed to transform each of the bands and enable them meet their potentials. Through this, the finalists get rock makeovers that help fine tune their performance on stage and sharpen their image off of it.
Held through online sessions via Zoom, LAKAS contenders are mentored by Red Horse Beer evangelist bands Slapshock, Greyhoundz, Wilabaliw, and Chicosci. On the other hand, AKLAS competitors received pointers from Mayonnaise, Kjwan, and Razorback.
Enjoy the Red Horse rock fest extra strong with your favorite beer and avail of the Pambansang Muziklaban Starter Pack promo. Buy one (1) six-pack of Red Horse Beer via 8632-BEER, SMBDelivers.com, Boozy.ph, and San Miguel's online store The Mall and get one (1) Red Horse Beer Shirt absolutely free. Order more and get a chance to join Red Horse Beer's Beertualnuman. One (1) case of Red Horse Beer earns one (1) raffle entry to get a chance virtually meet and greet rock idols Greyhoundz, Wilabaliw, Chicosci, Mayonnaise, Kjwan, and Razorback.