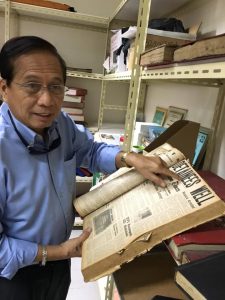 ( I wrote this article in June 2015 about Ferdinand "Bongbong" Marcos Jr. which reminded me of my early days when I met the father, Ferdinand Sr. ( called by all as simply "FM" ) in Malacanang during those martial law days.)
JUNE 28, 2015 — When I met him last week in his Roxas Blvd office in Metro Manila, Senator Ferdinand R. Marcos, Jr. was looking well. But I soon found out why he sent "Zandro", his 21-year old son, an Oxford London student who was on his school break to read his speech at a Manila university the day before.( Zandro was a "hit" by the way to the young university students.)
"Bonggets"– his friends usually call him — had stomach problem and had been subsisting on water and hot tea. But he was otherwise in his usual high spirits. We had a good chat for over an hour.
FIRST SIGHT — Flashback. I was a young Davao journalist then in the mid 70s during Martial Law after I passed the 1973 Philippine Bar exams. I joined a delegation from the Davao media to Malacanang to meet then President Marcos who was reclusive due to his ailment. That was the first time I spotted young Bongbong who was unobtrusibly standing in a corner by the window curtains just watching closely what was going on. My take then was that he was closely looking after his father who was just seated on a chair talking to us. Every time FM would take a glance towards his back, as if wanting something, the young son would oblige. Then he would return back to his corner.
FRIENDS — Fast forward. When I was Davao Congressman from 1992 to 1995, "'Bonggets' " was Ilocos congressman. Although we were colleagues, we did not bond much as close friends while working in the Batasan. He was seated up front and I was in the back row. Having humble beginnings and as a "probinsyano" reporter, the Marcos family was a distant star from my own ordinary world down south. However, it was when a congressional committee of which we were both members (together with then Congressmen Ralph Recto, Oscar Orbos, etc) came to Davao and stayed at our family owned Seagull Beach Resort in Punta Dumalag that I got to know more about him.
Before last week's chat, the last time we met was in November, 2013 when we disembarked at the Manila International Airport together from an international flight from Frankfurt, Germany (after my wife Beth got her second fresh stem cell infusion from Villa Medica for her kidney problem). 'Bonggets' was with wife, Lawyer Liza (nee Araneta) and of course, the usual "kodakan" even at the plane's tube area.
"LOW-KEY & SHY" — More recently, when the Mamasapano incident broke out and the issue about the Bangsamoro Basic Law (BBL) broke the headlines, "BBM" (that's his cryptic initials that his staffers and co-workers refer to him) was enthused about how he could be of help but as low key as possible. Unknown perhaps to many, he was always "publicity shy" and would prefer to just quietly do his work. But the work on the Bangsamoro Basic Law ( BBL) was something he could not duck and must grapple with as he was chair of the committee tasked to handle it for the Senate. Suddenly, he was thrust to the center of the public eye, a scenario he did not relish much — a task that if mishandled would be very divisive, sensitive and explosive. But which he must do.
HIS DREAMS — During our chat last week, he intimated that due to the intense polarization of the pro and anti BBL factions, he would be in a no – win situation. Nonetheless. His formula, from how it looks, does not however "kow-tow" to what is preponderantly popular or what the gallery wants. It's definitely NOT about "playing to the gallery." He wants to do justice to the task and to the Bangsamoro as well. He then personally conducted and led Mindanao-wide consultative meetings on the ground and met and heard the views of all stakeholders, especially those who were excluded from the earlier engagements. He dreams of an inclusive and sustainable legal framework for the Bangsamoro.
DOING RIGHT. — During our conversation, he tersely said: " I want to do what is right to be able to help the Bangsamoro. I could just let things pass as they are and not at all lift a finger and play safe. But from where I sit, there is still a lot of work and refinement to be done to make the BBL compliant to our basic law. There are sacrosanct parameters that must be observed; there are lines we all ought not cross. Otherwise, we are not doing our Bangsamoro justice; we are again misleading them and denying them the aspirations they have all dreamed of for so long".
VINDICATION — Yes, he is agonizing over accusations by some sectors that he is resorting to alleged "delatory moves" in the Senate, missing timelines and watering-down the BBL. He said that if there is anyone who should be blamed for some delay, it is Malacanang, for the length of time it worked on a revised BBL after the Bangsamoro transition commission submitted its finished work. Malacanang "embargoed" it ostensibly to review but what came out was still a non-compliant version. He added that if there is some more blaming to do, the OPAPP must explain why it gave in to demands that clearly crossed lines that not anyone of us is allowed to do.
He said he was not surprised by some quarters tagging him as "anti-Moro" but he said the final output of his work will vindicate him and "prove them wrong". So far, he has done great efforts, listening and consulting. Let's see how this ends.
LOVES MUSIC — 'Bonggets', although nurtured by a "princely world", has his two feet on the ground, so to speak. His is a well-rounded personality and can easily de-stress himself. He loves music and as a musician, he plays the saxophone and the flute. He dotes on his 3 boys, all studying in London whom he and his wife Liza assiduously protect from the public eye. As I said earlier, the debut of vacationing "Zandro" in public, reading his father's speech with some faltering Tagalog due to his Londoner accent must be a desperate option, the ailing senator not wanting to be a "no show" to the expectant university students. (Zandro's video appearance posted by some netizens has gone viral, by the way.!)
Bongbong's wife Liza is a practicing lawyer at the MOST Law firm in Manila. (For the curious, the "M" there obviously is because of her and yes, the "O" is for Executive Secretary Paquito Ochoa who is "on leave" and the "T" is for my friend Atty. Joseph Tan who is married to a Dabawenya daughter of the pioneering Garcia-Montemayor family).
Liza comes from the prominent Araneta family and hence a close relative of another Araneta scion, DILG Secretary Mar Roxas. As they say: 'it's a small world!"
COMING OF AGE — We will hear a lot more of 'Bonggets', I am sure. As some say, he is "coming of age" and is no longer basking in the shadows of his illustrious father, Ferdinand, Sr. whom I know he idolizes and looks up to with unending admiration.