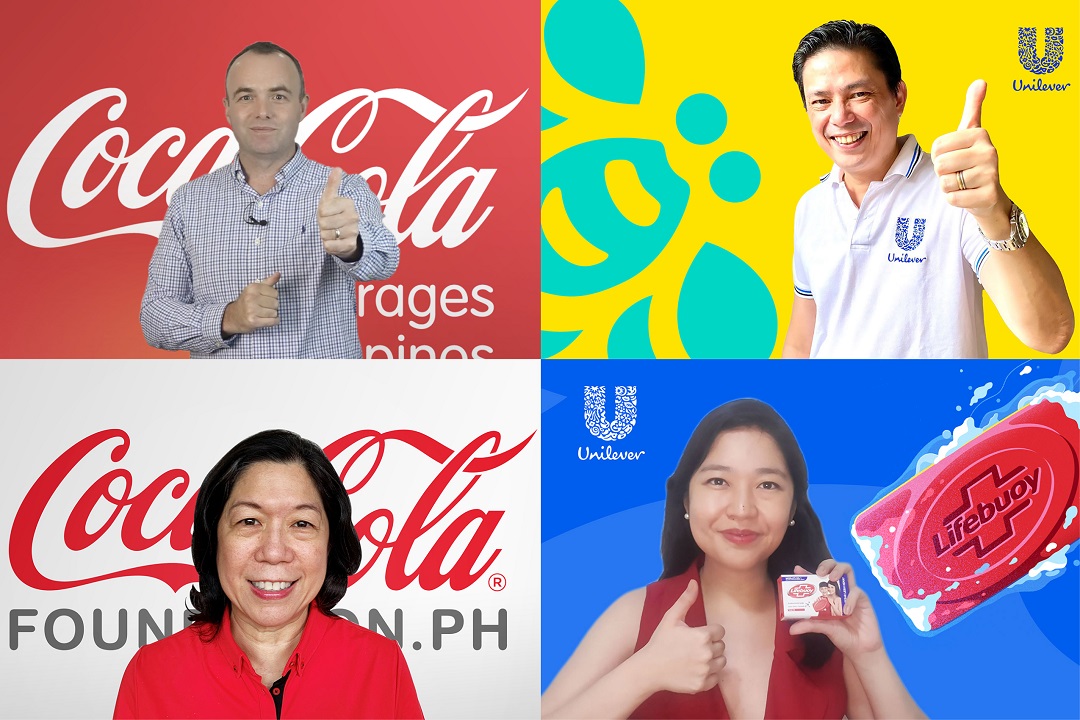 MANILA, NOVEMBER 20, 2020 – Coca-Cola Beverages Philippines, Inc. (CCBPI)—the bottling arm of Coca-Cola in the country—and consumer goods manufacturer Unilever Philippines have teamed up to promote proper handwashing in communities across the Philippines, with the goal of strengthening the country's collective campaign to mitigate the spread of COVID-19.
CCBPI and Coca-Cola Foundation Philippines (CCFPI) will be installing 37 handwashing stations across the Philippines, specifically in high-traffic locations such as public markets and terminals. Half of the total funding was drawn from proceeds from the 2019 Coca-Cola Charity Golf Classic, where Coca-Cola had raised over Php 3 million from sponsor pledges.
"Supporting local communities has always been an integral part of our operations," said Gareth McGeown, CCBPI President and Chief Executive Officer. "We are committed to the efforts to protect communities from COVID-19, particularly through creating safer and healthier spaces for Filipinos. We are proud to have found a partner in Unilever who share the same goal."
Unilever Philippines will be providing Lifebuoy soap for one year and will help develop information and education campaigns to promote proper hygiene through handwashing—which remains one of the simplest and most effective lines of defense against the coronavirus.
"We remain focused on helping Filipino families rebuild communities and livelihoods across the country. We thank Coca-Cola and all the local government units involved for this opportunity to show our Malasakit culture of Sama-Sama, Tulong-Tulong as we continue the call to make proper hand hygiene commonplace for all Filipinos through Lifebuoy," shares Benjie Yap, Chairman and CEO of Unilever Philippines.
The first batch of handwashing stations to be completed this 2020 covers ten public areas in Luzon, six in the Visayas, and four in Mindanao—including public markets, transportation terminals, and plazas. Coca-Cola targets to complete all installations by early 2021.
A collective effort toward safer public spaces
CCBPI has also pledged to ensure the project's sustainability by covering the maintenance costs of the stations for a year. Stakeholders in local government, meanwhile, are tasked to monitor the security, cleanliness, and proper disposal of water outflow through existing drainage systems.
"We are steadfast in our promise to foster stronger partnerships with our local partners and stakeholders, especially during these difficult times," said Cecile Alcantara, CCFPI President. "With all our partners' active participation in promoting proper handwashing and equipping communities with multiple handwashing stations, we are able to work together towards a more impactful approach in creating better and safer environments for our communities."
Importance of handwashing in preventing spread of COVID-19
CCBPI and Unilever strengthens the initiative through the implementation of an information, education, and communication (IEC) campaign to emphasize the importance of proper handwashing, co-developed with Unilever through its top global hygiene brand Lifebuoy for local government units.
The COVID-19 pandemic reinforces the importance of proper handwashing, which contributes greatly to the prevention of health risks via contact transmission of the virus. In the country, about 3.3 million households or 14.7 million Filipinos may not be able to comply with proper hand hygiene guidelines due to the absence of handwashing areas or lack of soap and usable water. Given this, the two-pronged approach of educating people on the importance of proper handwashing and the installment of necessary facilities is crucial to keeping communities safer.
CCBPI's partnership with Unilever is one of the initiatives undertaken by the bottling company to provide its stakeholders with much-needed support during the pandemic. Earlier in 2020, Coca-Cola in the Philippines pledged Php150M toward COVID-19 efforts—through this, the Company was able to provide over 2 million liters of Wilkins water to frontliners and communities, as well as PPEs to medical workers. More recently, the Balik Pinas Program launched in September seeks to provide returning OFWs with business opportunities to help them rebuild and restart.
This partnership aligns fully with Unilever's Malasakit for All, a program to support employees, partners, and communities – rapidly launched in March 2020. Among the initiatives included are provision of more than P100M worth of Unilever hygiene relief packs, PPEs, RT-PCR test kits, and medical ventilators to hospitals, NGOs, and affected groups nationwide. Lastly, the company also repurposed local manufacturing lines to produce Lifebuoy hand sanitizers to help Filipino communities in preventing the spread of diseases through proper hand hygiene.
Amid this global crisis, CCBPI and Unilever remain committed to exhibit purpose in action by creating meaningful initiatives for its people and for Filipinos nationwide.
About Coca-Cola in the Philippines
Coca-Cola has been refreshing Filipinos and making a difference in the Philippines for 108 years. The Philippines was Coca-Cola's first market in Asia to begin local bottling operations. Today, the Coca-Cola system in the Philippines has evolved into a total beverage company, offering 19 brands in its beverage portfolio and employing over 10,000 Filipinos in over 19 manufacturing facilities and more than 60 distribution centers nationwide. As part of its long-standing commitment to the country, Coca-Cola continues to #GOBEYONDGOOD as a business by continuously supporting safe water access programs in over 200 communities, empowering over 200,000 women entrepreneurs through training and peer mentoring, and accelerating packaging collection and recycling under its global World Without Waste initiative.
About Unilever
Unilever is one of the world's leading suppliers of Beauty & Personal Care, Home Care, and Foods & Refreshment products with sales in over 190 countries and reaching 2.5 billion consumers a day. Over half of the company's footprint is in developing and emerging markets. Unilever has around 400 brands found in homes all over the world, including Axe, Breeze, Dove, Knorr, Lady's Choice, Magnum, Rexona, Selecta, Sunsilk, and Surf.
Since 2010 we have been taking action through the Unilever Sustainable Living Plan to help more than a billion people improve their health and well-being, halve our environmental footprint and enhance the livelihoods of millions of people as we grow our business.