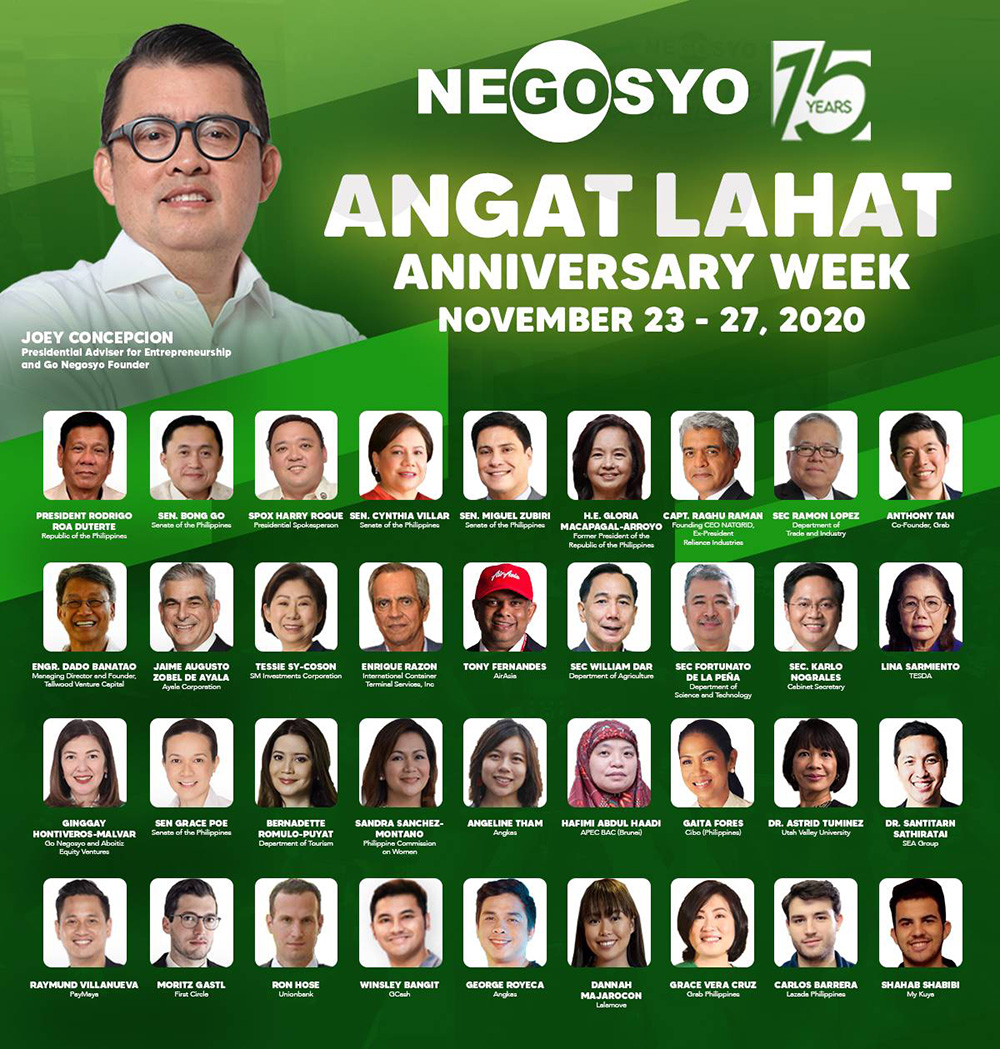 Go Negosyo kicked off its month-long anniversary in November by looking back at its momentous 15-year journey, while reaffirming its commitment to help MSMEs recover in the face of their greatest challenge yet.
Former President Gloria Macapagal-Arroyo appointed Joey Concepcion as Presidential Adviser for Entrepreneurship in 2005. He then established Go Negosyo that same year with the vision of growing it into a thriving organization that would bring together the public and private sectors and help reduce poverty through entrepreneurship.
In just over a decade, Go Negosyo has successfully nurtured millions of micro and small entrepreneurs through its Mentorship, Money, and Market programs. Even the pandemic – the biggest crisis to affect the economy of recent – has not dampened its mission, and its 700-strong mentor network continues to offer continuous guidance to MSMEs through its digital platforms.
Recognizing the cashflow problems of MSMEs during the pandemic, Concepcion announced PHP5 million in capital augmentation to over 300 MSMEs through an online raffle this month. The Pandagdag Puhunan Program winners are announced at the end of Mentor Me Online (MMO) sessions that are streamed live on Go Negosyo's Facebook page.
"We understand that small businesses are struggling right now, so we hope that we can ease the burden off their shoulders in a small yet significant way. For the past 15 years, we have been helping MSMEs grow, and this is one effort to build on that vision," said Concepcion.
From November 23-27, Go Negosyo will host a series of events featuring industry leaders and business executives from across the region as part of its anniversary week. On November 23, an MSME Conference will be held from 9AM-2PM to teach entrepreneurs on how to navigate the post-pandemic economy. Capt. Raghu Raman ex-president of Reliance Industries, Anthony Tan of Grab, Engr. Dado Banatao of Tallwood Venture Capital, and Anthony Fernandes of AirAsia are among the esteemed panel of speakers.
On November 24, an Agri Conference will be held in the morning from 9AM-2PM featuring Sec. William Dar of the Department of Agriculture, Sec. Boy de la Peña of the Department of Science and Technology, Cabinet Secretary Karlo Nograles, Lina Sarmiento of TESDA, and other renowned speakers to discuss the future of agriculture.
The afternoon is dedicated to the Women Conference from 3PM-6PM, where participants can hear from Sen. Grace Poe, Tourism Sec. Bernadette Romulo-Puyat, Sandra Sanchez-Montano of the Philippine Commission on Women, Angeline Tham of Angkas, and other inspiring Filipina entrepreneurs on the invaluable impact of women leaders across industries.
On November 25, Go Negosyo and the ASEAN Business Advisory Council Philippines will hold the AMEN Conference 2020 from 9AM-2PM with Raja Singham of ABAC Malaysia, Hon. Ar. Siti Rozaimeriyanty DSLJ Hj Abd Rahman of ABAC Brunei, Eleanor Mak of Australia-ASEAN Business Council, Bernardino Vega of ABAC Indonesia, Orlando Vea of PayMaya Philippines, and Engr. Merly Cruz of Go Negosyo.
On November 26, Go Negosyo will host SIGN UP 2020 from 9AM-2PM, featuring Dr. Santitarn Sathirathai of SEA Group, Dr. Astrid Tuminez of Utah Valley University, and local tech visionaries from various e-commerce and social media platforms.
By November 27, Go Negosyo will close its anniversary celebration from 9AM-1PM with a special message from President Rodrigo Duterte, followed by a conversation with Sen. Bong Go, Presidential Spokesperson Harry Roque, Sen. Cynthia Villar, and Sen. Miguel Zubiri on the government's role in promoting MSME development. The top 15 inspiring MSMEs will also be recognized during the Angat Lahat forum.
All events are free of charge and streamed live on the Go Negosyo Facebook page as part of Go Negosyo's relentless efforts to help businesses navigate this challenging environment through knowledge sharing and capacity building.
"For the past 15 years, Go Negosyo has touched the lives of countless individuals, but our journey does not end here. We will continue to create opportunities for everyone. We will not stop until every Filipino succeeds in both business and life," Concepcion concluded. #