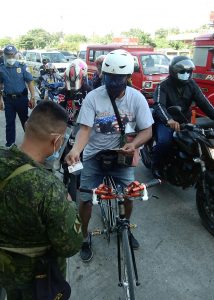 LAW enforcers apprehended some 2,585 individuals who were without Food and Medicine passes since March this year when the Enhance Community Quarantine was imposed.
Captain Rosario Aguilar, spokesperson of Davao City Police Office, said this figure was compiled from reports coming from various parts of the city.
Of this number, 115 were caught since Tuesday, the first day of the reimposition of the FM pass under a new executive order from city hall issued on Friday, Nov. 13.
Based also on the records of Davao City Police Office (DCPO), from a total of 9,758 quarantine violators were apprehended while 3,261 cases were filed from March 15 to Nov. 17.
Infractions ranged from violating curfew, liquor ban, social distancing, not wearing face masks, and pillion riding without a barrier for motorists.
The city has re-imposed the use of Food and Medicine Pass on Tuesday to regulate the movement of individuals due to the surge in the number of COVID-19 cases in the city. The FM pass holders are given to a member of a household who will be allowed to buy food and medicines. A Davao QR code will be in effect on November 23 for work, business, and other essential travels.
The city has also restored the liquor ban since Nov. 2 until Dec. 31, 2020.
Mayor Sara Duterte explained in her radio program that the curfew is implemented because of the advice from the City Health Office that the increase in cases of transmission was due to after-work non-essential activities.
With the Christmas season around the corner, such activities could drive the number of transmission.
Recently, Mayor Sara said there is a need to control the Covid-19 cases in Davao City because of the critical status of the number of beds dedicated to Covid-19 in the Southern Philippines Medical Center (SPMC).