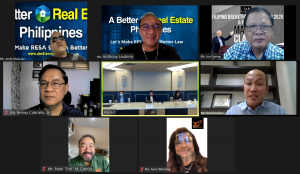 IN ORDER to address the 6.75-million-unit housing backlog, which approximates that around one in five Filipinos lacks access to a decent and formal home, real estate industry representatives revamped efforts to amend the Real Estate Service Act of 2009 (RESA) through the filing of a class-action Petition for Declaratory Relief on Tuesday at the Makati Regional Trial Court.
Filed by members of A Better Real Estate Philippines (ABREP), a movement that seeks to promote inclusivity and the use of technology in the industry, the petition aims to formally identify what ABREP President Anthony Leuterio calls the "anti-poor, anti-Pinoy, and anti-technology" provisions of RESA.
"RESA is anti-poor because it forces unnecessary educational requirements that drive the cost of becoming a practitioner astronomically high," said Leuterio during Tuesday's press conference where he was joined by some of the largest real estate groups in the Philippines, including the Chamber of Real Estate Builders' Association (CREBA), the National Real Estate Association (NREA), and various other developer representatives.
Leuterio pointed out that under Section 14 of RESA, applicants for the Professional Regulation Commission's (PRC) broker licensure exam are required to hold a four-year degree in Bachelor of Science in Real Estate Management (BSREM).
According to Leuterio, this is an unnecessary educational requirement that needlessly drives up the cost of becoming a real estate broker. The degree alone can cost up to P300,000 to complete, making it the most expensive and onerous broker licensure process in the world. As an alternative, he suggests decreasing BSREM's units to those that are required to practice.
"The backlog is a major problem in the Philippines, but we cannot sell enough units due to the lack of salespersons," said NREA President Benny Cabrieto. "There are less than 100 BSREM graduates per year, and not all pass the board. Even the good schools do not offer this course."
The overlapping regulatory authority between the PRC and Department of Human Settlements and Urban Development (DHSUD) created by RESA not only makes the process of licensure inefficient, but it also exposes potential practitioners to redundant registration costs.
"Bakit pinapahirapan natin mga salespersons? At the end of the day, there is a developer and broker who monitor the agents," said Leuterio. "It will take you 6 months to 1 year to get licensed and there is a large amount of money involved. To comply with the accreditation for salespersons, it will cost up to P30,000 if you are far from any DHSUD or PRC offices."
Fewer available practitioners in an industry that is already notorious for fluctuating employee retention rates, Leuterio said, will only aggravate the backlog, which the DHSUD has previously stated will balloon to approximately 22 million by 2022 if unaddressed.
"Our intent with the filing of the petition for Declaratory Relief is to start overhauling the industry's regulatory framework to make the profession more inclusive and accessible," said ABREP partner and legal advisor Atty. Estrella Elamparo.
One of the most controversial provisions in RESA, Section 32, requires that corporations have at least one licensed broker for every 20 accredited salespersons, a provision that Elamparo said is "arbitrary" and was not deliberated upon according to House and Senate records.
This is not the first time that RESA has been challenged. CREBA also attempted to get lawmakers to pay attention to amendments in previous years. CREBA National President Noel Cariño emphasized that the provisions not only affect practitioners, but also developers.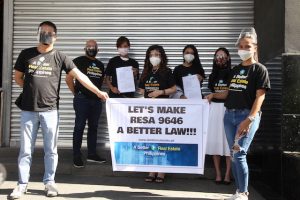 "We are not anti-regulatory, but the problem lies in the 1-is-to-20 provision. Where did you get that number?" said Cariño. "Now, we are saying tech will allow you to reach as many people as you want, but how can you say that the 'magic 20' will ensure optimal real estate marketing?"
"What we need: people to sell. Hindi lahat ng bayan may brokers. There are towns without licensed brokers," said Bria Homes President Red Rosales. "Paano natin mabebenta ang mga prinouduce namin na mass housing if walang magbebenta?"
The 1-is-to-20 rule also has implications surrounding the development and use of technology in the real estate industry, said Leuterio. The ABREP president suggested that there have been cases where web platforms designed to connect salespersons to buyers have been misconstrued as being structured the same as traditional brokerage firms. As a result, salespersons have allegedly been falsely accused of violating the 1-is-to-20 rule.
"RESA is anti-technology as it was crafted in the pre-automation era, at a time where we couldn't imagine the level of technology we have now," said Leuterio.
Leuterio also highlighted RESA's failure to promote equal opportunity for local real estate practitioners, stating that the law's stringency has resulted in much of the industry going underground, resulting in a breeding ground for colorums.
"It is anti-Pinoy because it fails to promote equal opportunity for Filipinos while unauthorized foreign agents continue to operate unchecked," said Leuterio, noting that Informal buyer-get-buyer referral programs have become commonplace, resulting in some foreign sellers who illegally reap incentives that would otherwise be compensated to Filipino property sellers.
"We are not anti-RESA, we are pro-Pinoy. The law needs to be amended, not abolished. But for any change in this law to be meaningful, it must be a united effort from all stakeholders," said Leuterio. "We call upon both our fellow industry practitioners and those in the government who align with our beliefs to help make this law a better law for the Philippines."PR