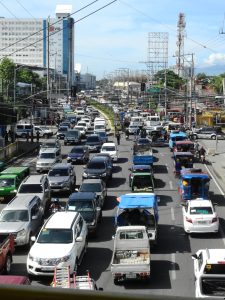 TRAFFIC CONGESTION characterized the first day of the reimplementation of new measures designed to curb the spread of the coronavirus pandemic as checkpoints became venues of long queues of vehicles.
This developed as Col. Consolito Yecla, Task Force Davao commander, urged especially those who want to enter the city for non-essential travels that they must not do so because law enforcers will make sure to prevent them.
"And those who want to enter Davao City without any documents to show, they should not add to the traffic; they also cannot enter," Yecla told TIMES.
What contributed to the congestion, he added, was that many of those entering the city failed to prepare the documents showing their travels were important.
Yecla said that while inspectors knew what to look for, some passengers of vehicles were slow to produce the documents that they were asked of them.
"Kasi wala masyadong FM ( Food and Medicine) pass sa mga main checkpoints natin dahil nasa boundaries po tayo (checkpoints). Ang madalas po doon ay yung mga outside Davao residents na bumabyahe ng Davao for some essential purposes," Yecla said.
Among the requirements for those outsiders who wanted to come to the city for essential purposes included their identification cards, business permits for those buying some supplies for their stores, certifications and similar documents for those with appointments.
"Nagkakaroon ng traffic dahil yong iba, nakatago pa sa mga bags ang folders yong mga documents. Hindi nila na i-ready kaya bawat sasakyan umaabot ng almost a minute…kaya congested ang traffic," he said.
Others, he added, were trying to have their way even when they did not have the documents necessary for them to enter the city. "Tumatagal tuloy ang oras na maconsume ng isang inspector sa kanila," he added.
For those who readily showed the requirements, inspectors were able to process them in seconds, while those employees of some companies, they were also made to pass through immediately, he added.
But the traffic jams were not limited to the entry points into the city as even in major streets, inspections were intensified, said Col. Kirby John Kraft, City Police Office director.
In a phone interview, Kraft said teams that were deployed to do the inspections refused to allow those who wanted to go out of their homes without the Food and Medicine pass.
Kraft said that aside from the pass, also required were documents that would show that those who were outside their homes were allowed by the measures that the city government has implemented.
"So on the first day of implementationthere was a traffic congestion because every individual was checked if they have FM passes and documents," he said, adding that some failed to immediately show these documents.
He said: "It's better for them to prepare (the requirements) and present them to inspectors immediately since we are implementing the no touch policy," he added.
Under the policy, only those whose food and medicine passes with odd numbers can buy food and medicines on Mondays, Wednesdays and Fridays, while those with even numbers are only allowed on Tuesdays, Thursdays and Saturdays.
On Sundays, no one is allowed to get out of their homes except when they are scheduled to work and other important activities, like in cases of emergency.
On Friday, Mayor Sara Z. Duterte released two executive orders as part of curbing the spread of the coronavirus pandemic.
One of these measures was the reimplementation of the FM pass, while the other was declaring the city a restricted area which basically prevents outsiders from coming to the city unless their travel is important.